Cristina Fernandez opens inter-active Malvinas museum on Tuesday
Monday, June 9th 2014 - 06:38 UTC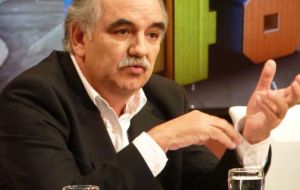 Argentina's claim campaign over the Falklands/Malvinas Islands will have another milestone this week when President Cristina Fernandez opens the Malvinas Museum, which is located on the grounds of the former Navy's Mechanics School, famous for being a torture and disappearance center during the last Argentine military dictatorship and now a Space for Memory.
"It won't be a war museum but rather will present the life and history of the Malvinas", said Jorge Giles who is the director of the museum to be inaugurated next Tuesday and will be open to the public starting on Saturday June 14.
"The idea is that it's not a museum of 'dead things', but a collection of strong sensory experiences of what the Islands really are: people will be able to feel the strong wind of the Islands, together with the screeching of war planes. This will interact with a memorial to all those Argentine combatants who lost their lives in the 1982 conflict placed in an open space to which you reach along a long jetty which links the museum and recreates the flora and fauna of the Islands, plus a lagoon, as if people were actually in the Malvinas", added Giles.
In this framework there will also be references to Argentine historic heroes such as Antonio Rivero, or 'Gaucho Rivero' who allegedly in 1833 started an uprising in the Islands; of Dardo Cabo, a metal industry worker who in 1966 led the Operation Condor in an Aerolineas Argentinas craft which landed in the Islands, and to Raymundo Gleyzer the first cinema director to film in the Malvinas Islands.
Giles added it will be the first national museum dedicated to the Malvinas in the history of Argentina. He has been working on the idea since 2011 and will be heading the museum for the next 180 days, according to decree 809.
"We are going to tell the true story of the first patriots who lived in Malvinas and with objects, images and historic facts prove the English colonialism usurpation: we're not talking of a piece of islands covered in stones, but a true piece of the Argentine Patagonia, with hard working people that were thriving to progress" underlined Giles.
Inauguration on Tuesday with president Cristina Fernandez is also the Day of the Affirmation of Argentine Rights over the Malvinas Islands, the date in which on 10 June 1829 the Political and Military Headquarters Command of the Islands was created, according to Argentine history.
To the ceremony have been invited Malvinas veterans, historians and the diplomatic corps from the region which openly support Argentina's claims over the Falklands/Malvinas Islands.