Beijing hosts this year's Meat Congress; China has become Uruguay's main beef client
Thursday, June 12th 2014 - 07:39 UTC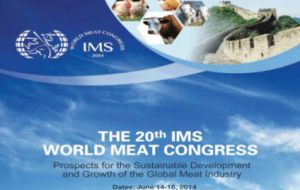 China will be holding this year's World Meat Congress in Beijing, an event traditionally hosted by meat producing and exporting countries. However the significance of the world's second largest economy and its booming demand for meat have made it the right place for the 14/16 June conference.
As a full member with a long tradition and reputation in the meat industry Uruguay will be participating in the congress in Beijing and two years later will be hosting the event.
But Uruguay has other good reasons to attend Beijing and make a good display of its high quality meat production, particularly since China has a diminishing cattle herd and meat supply.
In effect in a very short time China has become the main buyer of Uruguayan beef, taking 100.000 tons from virtually zero in just two years, with prospects of even further volumes.
Likewise last month Uruguay's stand at the Shanghai food show was awarded the best stand prize and became one of the star attractions of the event.
Equally important farmers and industry representatives can meet to assess the evolution of the industry and future prospects since Uruguay has managed an annual record calving of three million. This is vital for the development of the industry and export potential.
Uruguayan meat (beef and offal) exports to China so far this year have reached 39.837 tons compared to 35.623 in the same period a year ago, while in dollars the increase was 9.45%.
Uruguay's pasture bred cattle also has an advantage over other suppliers of meat to China, mainly Australia, which has had several of its abattoirs sanctioned since anabolic and other growth hormones residues have been detected in the beef.
Uruguay not only enjoys a 50 year standing ban on the use of growth hormones or other similar stimuli, but is also a pioneer in traceability techniques, which can easily identify the cattle and its origin.