Blatter is king of FIFA: age and term of office limits proposals, rejected
Thursday, June 12th 2014 - 06:25 UTC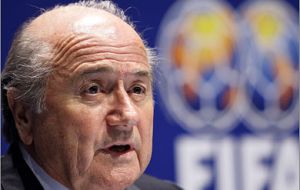 FIFA's 209 member federations have overwhelmingly rejected proposals for age limits and term of office limits. Delegates at the FIFA Congress meeting in Sao Paulo booted out the plan that formed part of the recommendations to revamp FIFA's governance.

With the e-voting system not working, a show of red cards made clear the feelings of a majority of delegates in the two votes. But around 40 delegates in each ballot had registered approval of the proposals.

Many FIFA critics and its Independent Governance Committee, headed by Mark Pieth, said the introduction of both age and term limits were crucial to helping to restore the integrity of football's governing body.

The two items were the final and most controversial elements of the reforms process launched three years ago in the wake of the cash-for-votes FIFA presidential scandal and the allegations of wrongdoing in the 2018 and 2022 World Cup bid race.

"We don't speak any longer about age limits in FIFA," its president Sepp Blatter commented. Blatter has always labeled age limits as "discriminatory".

Representatives from the Congolese, Cuban and Haitian federations took the stage to lend vocal support to Blatter's position

The Swiss is set to run for a fifth term in office, reversing his decision of 2011 that his current term will be his last. If he is re-elected in 2015, he will serve a four-year term, health permitting, by which time he will be 83.