Merkel fully committed to reach an EU/Mercosur trade deal
Monday, June 16th 2014 - 06:46 UTC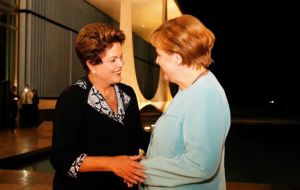 German Chancellor Angela Merkel assured Brazil on Sunday that she will do her utmost to bring to successful end negotiations for a cooperation and free trade deal between the European Union and Mercosur.
Merkel stopped in Brasilia on her way to see the German soccer team play in the World Cup on Monday.
"We have a lot of interest in reaching a free trade agreement between Mercosur and the European Union," she said in a statement to reporters after meeting with Brazilian President Dilma Rousseff.
"I will do what is possible so that we can take a step forward and overcome the obstacles. Germany and Brazil have much to win from an agreement".
Merkel and Rousseff discussed expanded cooperation in scientific research and the energy sector, including renewable energy, and joint ventures to increase investment flows.
However freeing up trade flows between the two countries has been held back by the ongoing negotiations for a free trade accord between Europe and Mercosur, which includes Brazil, Argentina, Uruguay, Paraguay and, more recently, Venezuela.
Talks took off in 1999 with not much advances and were taken up again in 2010 after a six-year freeze. European agricultural subsidies and the opening of Mercosur industries to competition from Europe remain the stumbling blocks.
In countries like Ireland, farmers fear their meat production cannot compete with the likes of Argentina, Uruguay and Brazil, now the world's largest beef and chicken exporter.
In the midst of an economic crisis, Argentina has dragged its feet on drawing up a list of European products that would be allowed to enter Mercosur free of tariffs.
Brazil, a regional powerhouse that is seeking more trade to boost its stagnant economy, feels it is being left behind by advances in the negotiation of trade pacts between Pacific nations and between the EU and the United States.
The EU and Mercosur were due to exchange proposals by the end of last year outlining the limits of the duty-free access they are willing to offer, but the deadline has been repeatedly extended, with no hopes until the end of the World Cup and the BRICS summit in Brazil.