Argentina pressing Francis over Falklands' dispute, says Vatican expert
Tuesday, June 17th 2014 - 06:37 UTC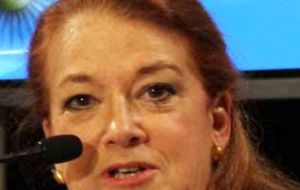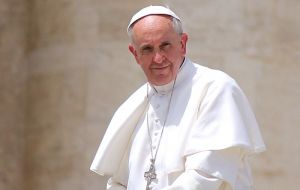 Vatican officials are becoming increasingly irritated with the Argentine government after its ambassador to Britain, who is a vocal critic of the UK policy regarding the Falkland Islands, requested a private audience with the Argentine born pontiff, reports a piece by Edward Pentin, published by Newsmax.com.
According to the article, ambassador Alicia Castro was scheduled to meet the Pope on Monday of last week, but the audience was canceled at the last minute due to Francis having a "mild indisposition." The Pope took off most of Monday and all of Tuesday last week to rest.
Mr Pentin, who has a long career reporting on Vatican affairs points out it is highly unusual for an ambassador accredited to another nation to have such an audience with a Pope.
"The Vatican won't comment on the nature of Castro's visit, but sources said the audience was most likely part of an overall Argentine strategy to use the Pope's nationality, and his willingness to see a wide range of his compatriots, including those Popes don't normally see, to try to keep up pressure on the Falklands issue".
The British government is unconcerned by the latest possible attempt to manipulate the Pope. "The Vatican has been clear with us at a very senior level, including quite recently, that their long-standing position of neutrality on the Falklands remains in force, whatever Argentinean efforts to misrepresent the established position of the Holy See on this issue," Britain's ambassador to the Holy See, Nigel Baker, told Mr. Pentin.
Ambassador Castro, who is a political appointee, with a previous diplomatic experience in Hugo Chavez' Venezuela has been a key figure in pushing Argentina's sovereignty claim. Pentin recalls that "she publicly ambushed Britain's Foreign Secretary William Hague over the matter in 2012, asking at a London meeting on human rights if there was a chance for dialogue".
As Archbishop of Buenos Aires, then-Cardinal Jorge Bergoglio joined his fellow Argentines in calling Britain "usurpers" of the Falklands, and President Cristina Fernandez refers to the Islands as a colonial enclave and its population 'squatters'.
However UK Prime Minister David Cameron simply said Francis was wrong on the issue and referred to the 2013 referendum in which the local population voted overwhelmingly in favor of remaining a British Overseas Territory.
"The white smoke over the Falklands was pretty clear," Cameron said, a comment ambassador Castro criticized as "dumb" and which betrayed a "foolish" attitude on the part of the prime minister.
Mr. Pentin states that although Francis will probably continue to see a wide range of his compatriots in the future, like previous Popes he will continue to take the Holy See's neutral line on such sensitive political issues.
He did, however, speak highly of Margaret Thatcher, who ordered British troops to retake the territory in 1982. In a message of condolence on her death last year, he recalled "with appreciation the Christian values which underpinned her commitment to public service and to the promotion of freedom among the family of nations.
"Entrusting her soul to the mercy of God, and assuring her family and the British people of a remembrance in his prayers, the Holy Father invokes upon all whose lives she touched, God's abundant blessings" said pope Francis.