HMS Clyde marks liberation of Falklands with key role in ceremonies
Tuesday, June 17th 2014 - 06:22 UTC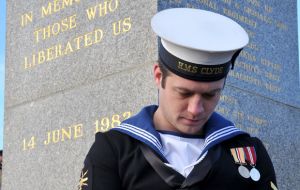 Sailors from HMS Clyde joined other protectors of the Falkland Islands as the British Overseas Territory marked the 32nd anniversary of its liberation. The ship's company took part in a memorial service and parade, and hosted veterans of the 1982 conflict on Liberation Day in the Islands' capital, Stanley.
The Islands' present-day Royal Navy guard-ship sailed into Stanley so its sailors could join local civilians and members of the Falkland Islands Defense Force at Liberation Day events.
June 14 is a national holiday in the Falklands, but it is a solemn affair in the depths of the austral winter. The patrol ship's sailors had the honor of being the lead platoon in the march through the heart of the capital.
Stepping ashore for their final rehearsal in the early-morning darkness, the ship's company faced strong winds and a flurry of snow. Thankfully, during the memorial service in Stanley Cathedral the sun came out to take the edge off the keen breeze.
The chill was still sufficient to give the smallest taste of what those we marched to honor had endured at sea and in the field in May and June 1982.
"It is vitally important that we never forget those lost and injured in the service of their country, made even more poignant by the presence of so many veterans and Islanders for whom this is a living memory. I am incredibly proud to bring my Ship's Company to be a part of a very fitting and memorable parade".
As part of the commemorations, HMS Clyde hosted three veterans of the war: soldier Kenny Ward from Scunthorpe and Brian Matthews from Coventry, both gunners with the 12th Regiment RA, and 'Dusty' Miller from Glasgow, in 1982 a private in the Royal Army Ordnance Corps refueling Harriers and helicopters at a temporary airstrip at Port San Carlos.
On Liberation Day in 1982 Kenny raised the Union Flag on the hill overlooking Port Stanley. He made a promise to return and first came back in 2008, when he again raised the flag in memory of those who died. He said: "I keep coming back to remember those who died. It is a privilege to be here, the Islanders are always welcoming and I have made really good friends."
Brian was only 20 when his leave was cancelled and he found himself on the way to the Falklands and subsequently spent his 21st birthday on San Carlos Hill during his second tour here. He said of his experiences during the war: "I would do it again, I feel very strongly about it."
Dusty concurred: "It is one of the best things I have done I am very proud of what we did." (RN)