Uruguay economy growing at a slower pace: imports up; exports stagnant
Wednesday, June 18th 2014 - 08:31 UTC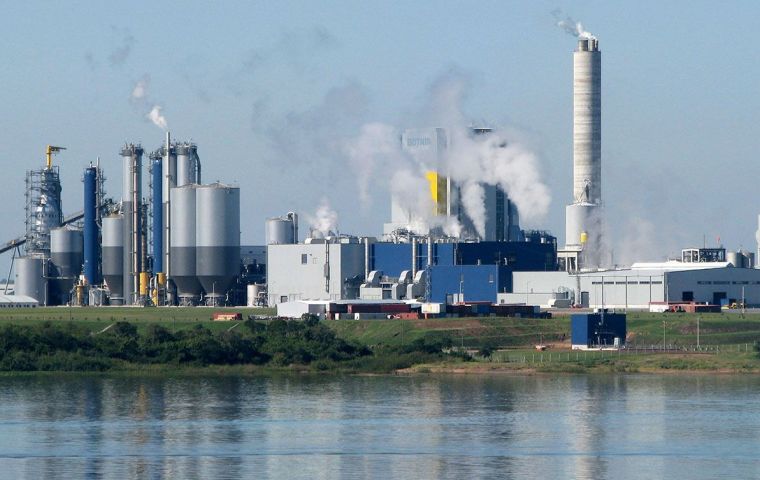 Uruguay's economy expanded 2.4% in the first quarter compared with the same 2013 period, but contracted 0.4% compared with the fourth quarter of last year, the central bank said this week. However deceleration is a fact since growth of the first quarter in 2013 has gone up 4.6% over 2012.
The government expects the economy to expand in the range of 3% this year, which is below previous estimates at the beginning of the year, but still growing. Uruguay's GDP at the end of March was estimated in 55,6 billion dollars with a per capita income of 16.331 dollars.
Compared to the previous quarter, in the first quarter of this year, agriculture and livestock was down 2.2%; and manufacturing lost 7.6% because the UPM pulp mill was shut down for maintenance and Pepsi Cola concentrates also reported a lesser activity.
Construction also contracted, 2,4% closely influenced by the end of work at the second pulp mill, Montes del Plata, expected to be inaugurated next month. Transport, communications, storage was unchanged, while power and other activities grew by 0.5%.
Likewise compared a the first quarter of last year, there was an overall modest growth but several sectors fell back sharply. Agriculture was down 5.4% mainly because of disputes between abattoirs and farmers over livestock prices, while in agriculture only wheat expanded modestly. Manufacturing dropped 2.3%; construction 2.1% and power, 0.7%.
However there was strong performance from transport, storage and communications with an annual expansion of 7.7%. This can be explained by a greater level of imported goods and demand for complementary services, such as cargo transport.
The report also indicates that domestic demand with a 2.2% expansion helped overcome the strong contractions of foreign tourism and construction.
Regarding foreign trade, imports kept climbing having increased 10.8% in the quarter while exports again contracted, minus 2%.
Based on this latest data, all economic analysts coincide that Uruguay is moving at a much slower growth pace, but nevertheless will end 2014 with an expansion in the range of 2.5% to 2.8% and 3%, mainly based on a strong domestic demand, which coincides with a presidential election period next October.
Nevertheless the economy is forecasted to expand anywhere between 2.5% and 3%.