Cristina Fernandez calls for negotiations: "we want to pay 100% of creditors"
Saturday, June 21st 2014 - 09:31 UTC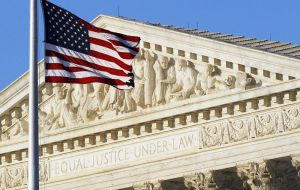 In a conciliatory speech compared to previous statements, President Cristina Fernandez said on Friday her government would negotiate with all of Argentina's creditors in a bid to avoid a new debt default that would further weaken the country's ailing economy.
"We want to pay 100 percent of creditors" Fernandez said in a speech from Rosario on National Flag Day, which is a holiday in Argentina. Her statement boosted hopes of a settlement to the legal battle between her government and "holdout" investors who are demanding full payment following Argentina's massive 2002 bond default.
Argentina is locked in a 12-year-old fight in U.S. courts with the creditors who refused to accept a 2005 and 2010 revamp of debt securities.
More than 92% of creditors accepted the restructurings, which left them with less than a third of the original value of their bonds. But the holdouts demanded full payment and won a series of U.S. court rulings that have brought Argentina to the verge of a new default.
Until this week, Fernandez had refused to even consider negotiating with the holdouts. She portrayed them as "vultures" picking over the bones of the 2002 debt crisis, which thrust millions of middle-class Argentines into poverty.
But on Friday, gone was any harsh rhetoric in Cristina Fernandez's remarks. "Argentina is willing to have a dialogue".
However, "it is not possible that the legislation of any country in the world privileges 1% of creditors in detriment of 94%. I think it is necessary to create the conditions so that Argentina can negotiate and accord. We have given evidence of this in several previous debt deals".
The U.S. Supreme Court this week declined to hear an appeal by Argentina in its battle against the holdouts. That left intact a ruling by Judge Thomas Griesa, of U.S. District Court in New York that bars the government from paying the holders of its restructured debt unless it also pays the holdouts.
The next payment on restructured debt is due June 30. If Argentina does not make that payment on time, it would have a 30-day grace period before falling into technical default.
"I have given instructions to our economy ministry for our lawyers to ask the judge (Griesa) to generate the conditions to be able to reach an accord that is beneficial and egalitarian for 100 percent of creditors," Cristina Fernandez said.
Settling the dispute would allow Cristina Fernandez to finish her remaining year and a half in office without the financial tumult that would accompany a default. She is constitutionally barred from seeking a third term at the next election in October 2015.
Leading candidates to succeed her say they would follow more investment-friendly policies than Fernandez, who has expanded the state's role in Latin America's No. 3 economy with heavy-handed currency controls, import barriers, high soybean export taxes and unpredictable curbs on corn and wheat shipments.
Foreign financing is needed to improve Argentina's farm infrastructure and stimulate its faltering economy as inflation soars and central bank reserves slump to eight-year lows of about 28.5 billion.
The government faces nearly 6 billion in debt payments and nearly 10 billion in 2015, according to the economy ministry.
Cristina Fernandez also insisted that in Argentina "what abounds is good faith and we have shown this by taking responsibility over debts. So Argentines, don't let anybody scare you". She added I have only an year and eight months in office, it would be very easy to reach any accord, but before my government is the nation and the motherland, with sovereignty, with education, with health".