Falklands' lawmakers petitioners at the UN C24 Decolonization Committee
Thursday, June 26th 2014 - 04:32 UTC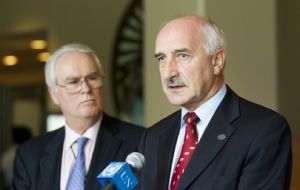 Argentina will be making its case claiming sovereignty over the Falklands/Malvinas Islands before the UN Special Decolonization Committee, C24, on Thursday morning. Two petitioners will support his presentation: a descendent from Luis Vernet and Falklands born Alejandro/Alexander Betts.
Two petitioners, elected members of the Legislative Assembly will be speaking for the Falkland Islands, underlining the right to self determination and to continue as a British Overseas Territory as was confirmed last year by an overwhelming support vote in a national referendum.
Foreign minister Hector Timerman will ratify Argentina's full willingness to find a peaceful solution to the Islands sovereignty dispute as emerges from the "numerous resolutions to that effect from the UN, which has not been possible so far because of the systematic refusal from the UK to resume negotiations with Argentina", says the official release from the San Martin Palace.
The delegation headed by Timerman also includes former Senator Daniel Filmus in charge of the Affairs Relative to Malvinas Desk; the sitting ambassador before UN Maria Cristina Perceval; the governor from the province of Tierra del Fuego, Antarctica and South Atlantic Islands, Fabiana Ríos as well as Senators and members from the Lower House from all parties in Congress.
Argentina is claiming sovereignty over the Falklands, South Georgia and South Sandwich Islands and adjoining maritime spaces.
Petitioner Marcelo Vernet is a descendent from Luis Vernet a Frenchman who Argentina considers the first political and military governor of the Malvinas and adjacent spaces to Cape Horn in the South Atlantic (as the Spanish empire described the area) "until he was removed when the British usurpation of the Falklands in 1833".
The second petitioner is Alex Betts, born in the Falklands and who left with the Argentine invading forces after a British Task Force recovered the Islands in June 1982. He fell in with an Argentine woman during the occupation and left with her leaving behind his Falklands family.