Falklands very happy with their current status of British Overseas Territory
Friday, June 27th 2014 - 08:11 UTC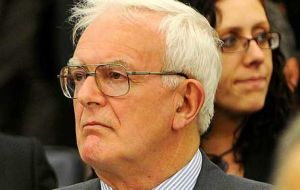 Falkland Islands representative Roger Edwards speaking before the UN Special Decolonization Committee recalled the Islands history and highlighted that the Falklands had British sovereignty since 1765, a time when Argentina did not exist as a sovereign nation.
He also underlined the right of Falkland Islanders to determine their own future is unequivocal, enshrined in the Charter of United Nations.
MLA Edwards said that the Falklands are very happy with their current status, and have no wish to change it.
This was confirmed in last year's referendum with an overwhelming vote and record turnout, when the Islanders were asked to decide on their future, and if they wished to retain their current status of British Overseas territory.
"With a turnout of 92%, 99.8% of the voters exercised their right of self determination and demonstrated clearly their wish to continue to enjoy economic self sufficiency, internal self government and above all the right to determine their own future. International observers judged the referendum to be free, fair and transparent and in accordance with Falkland Islands law.
Follows the complete text of the speech: http://www.falklands.gov.fk/assets/Speech-260614-R-Edwards-Address-to-C24-2014.pdf