Argentina claims Judge Griesa "blocked the payment to bondholders"
Saturday, June 28th 2014 - 10:57 UTC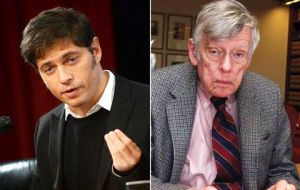 Through an official press release published on Friday afternoon, the Argentine government stated US Federal Judge, Thomas Griesa, attempted to "block the payment for bondholders," and committed an abuse of authority, after cancelling the deposit made on Thursday into a Bank of New York account.
According to the communiqué, the magistrate "incurred into an abuse of authority, exceeding his jurisdiction," while emphasizing that "the (current) debt swap bonds are not under litigation, but the ones defaulted in 2001 which have been bought by the vulture funds."
The Economy Ministry led by Axel Kicillof remarked that Griesa "sought to cancel the payment which was already deposited yesterday" and reaffirmed "Argentina's commitment to honor its debts with 100 percent of the bondholders".
The Argentine government also published on Friday a legal notice on leading media outlets of Argentina, to inform about the 539 million deposit the government made on Thursday in the Bank of New York to pay swap bondholders, as it was announced on Thursday by Economy Minister Axel Kicillof.
Addressed to "the holders of Argentine debt" from 2005 and 2010 swaps, the notification said that "in observance of the obligations assumed in the Trust Indenture dated on June 2, 2005, modified on April 30, 2010, before the holders and the fiduciary agent (Bank of New York Mellon - BoNY) (Argentina) has deposited the amounts corresponding to the next interest due dates on June 30."
"The amounts add up to 539 million US dollars which will have to be distributed by the fiduciary agent to each and all the holders, according to the mentioned Trust Indenture," it read.
The text specified "the deposited amounts are fiduciary property of the holders" and it is the duty of the fiduciary agent to "hold them on behalf of the holders' benefit."
The Argentine's government's move comes after President Cristina Fernández administration deposited the next payment needed to avoid a default on its restructured bonds, but US federal court Thomas Griesa decided not to let the payment go through.