Cristina Fernandez suspends all activities because of 'laryngitis'; more time to deal with Boudou's case
Wednesday, July 2nd 2014 - 23:37 UTC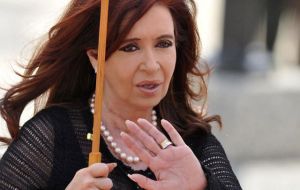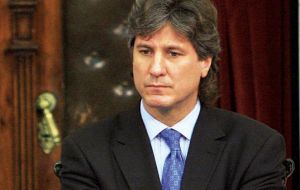 Argentine President Cristina Fernández has been forced to call off all official activities following a "pharyngeal laryngitis condition" with the medical team in charge of the head of state's health deciding on a 24-hour rest at least.
"Besides the corresponding treatment and evolution controls, it has been indicated a 24-hour rest, having (President Fernandez) to suspend the scheduled activities for today and the trip she was going to make to Paraguay today in the night," the statement by the Presidential Medical Unit (UMP) reads, signed by doctors Marcelo Ballesteros and Daniel Fernández.
Government spokesman Alfredo Scoccimarro, meanwhile, said that the president's visit to Paraguay was being re-scheduled for mid August.
In a rally on Tuesday at the government house marking the 40th anniversary of the death of ex president Juan Domingo Perón, Cristina Fernández showed some voice disorders while giving her speech and said she had caught a laryngitis from her grandson Néstor Iván.
The "pharyngeal laryngitis condition" has also helped out with Vice president Amado Boudou case who has been indicted on a corruption case and faces further questioning later this week.
Boudou's indictment was received by the Congressional opposition with calls for his resignation, or at least suspension or absence of leave until the court case is decided.
If Cristina Fernandez had travelled, Boudou who on Wednesday returned from a political tour to Central America and the Caribbean, would have been sworn in as Vice-president, probably in violation of the Constitution.
However the Cristina Fernandez administration strategy of first ignoring the case and at the most having Federal Judge Ariel Lijo questioned by junior officials changed dramatically in the last few hours, and the ruling Victory Front (FPV) caucus summoned the Impeachment commission for Thursday to analyze six requests against Vice-President Boudou.
The FPV has 17 members out of 29 including the president of the commission, and is expected to reject all six impeachment requests against the President of the Senate, as 2/3 of the commission are needed to pass a request.
Federal Judge Ariel Lijo has confirmed Friday's hearing for Vice President Boudou to extend his testimony in the Ciccone corruption case, next Friday.
Boudou's defense will now have to confirm whether the VP attends the hearing and provides further testimony on a high-profile political case that has prompted the opposition to demand Boudou takes a leave while the judicial process is on course.
Cristina Fernández second-in-command was indicted by Judge Lijo on Friday last week for his alleged involvement in the controversial purchase of the Ciccone Calcográfica company, that printed Argentina's peso currency by the time he was Economy minister.
The timing of the Impeachment commission has also been well calculated: any scandalous decision such as supporting Boudou and downplaying indictment can be expected to be overshadowed by Argentina's team in the World Cup when it faces Belgium on Saturday