"Vulture funds not interested in negotiations" claims Minister Kicillof
Wednesday, July 2nd 2014 - 07:53 UTC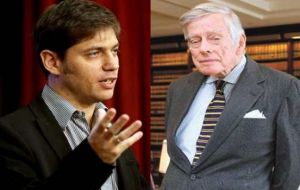 "Vulture funds are not interested in negotiations", and all they want is "to get hold of the money for re-structured bonds holders", said Argentina's Ministry of Economy in a release made public late Tuesday, the last exchange on the ongoing battle in a New York court with holdout hedge funds.
In early June as Argentina failed to have the US Supreme Court take the case, Judge Thomas Griesa court ordering Argentina to pay holdout bondholders in 'pari passu' conditions, 1.3bn dollars plus interest, became firm.
This means if Argentina is to pay the re-structured bond holders (as it should have done on 30 June) it must also comply with the holdouts, which Argentina refuses since it argues it forces the country to another default.
However Judge Griesa says both sides must sit and negotiate for which he named a special mediator, while he keeps the 'status quo', which means in practical terms delaying execution of payment to holdouts until July 30 thus complying with the grace month Argentina has before it allegedly falls into default.
Argentina tried to force the hand by depositing only the sum accrued to restructured bond holders in a New York bank, but Judge Griesa ordered the deposit be returned to Argentina and to start negotiations with holdouts at once, which apparently will begin next Monday, 7 July.
"Yesterday (Monday) Argentina officially communicated its decision to attend to the meeting called by Special Master (mediator) named by Judge Thomas Griesa, Mr. Daniel Pollack, as a clear manifestation of its willingness to negotiate in good faith", said the release.
"Nevertheless in a presentation done today (Tuesday) before Judge Griesa, the vulture funds specifically requested that the funds deposited by Argentina to pay 2005 and 2010 restructured sovereign bond holders, do not arrive to hands of their legitimate owners, that is, those bond holders".
"Likewise the Bank of New York (BONY) which received full payment on time and in form, rejected the proposal from the vulture funds, given the claims of numerous restructured bond holders since those funds deposited belong to them. Nevertheless BONY continues to ignore its obligation since it has not allowed the total of bondholders to collect what is theirs".
"This goes to show that the vulture funds are not intent in reaching a fair, equitable and legal solution that contemplates the interests of 100% of (Argentina) creditors. Despite this Argentina will be attending next 7 July to the meeting proposed by mediator Daniel Pollack", concludes the release.