Kicillof blasts holdouts: "they never negotiated or lent money to Argentina"
Wednesday, July 9th 2014 - 08:21 UTC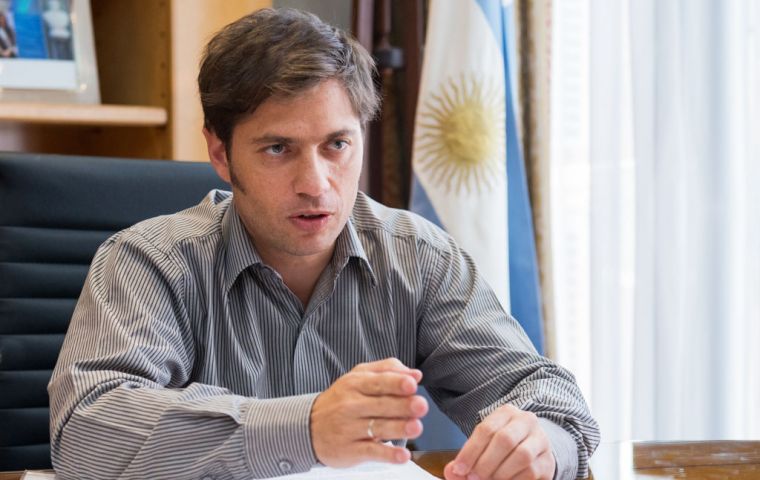 Argentine Economy minister Axel Kicillof responded fiercely to criticisms directed at him and the Argentine government by Elliott Management portfolio manager Jay Newman, reminding the representative of the holdout investors that they have never lent a cent to Argentina.
The politician responded a day after Newman wrote a Monday column in the Financial Times, suggesting that his and other Argentine officials' intransigent attitude was preventing a settlement in the case presided over by judge Thomas Griesa in New York.
"It is a paradox for a vulture fund like Elliott to try and clean up its reputation by adopting the representation of pensioners and defaulted bondholders. The only truth here is that NML Capital Elliott, which has its base in the Cayman Islands to avoid paying US taxes, bought Argentine bonds in 2008 and immediately sued Argentina," Kicillof affirms in an open letter published today.
"These bonds, unpaid since 2001, were acquired with the sole aim of obtaining a favorable ruling in order to make an exorbitant profit.
"Mr. Newman is trying to portray Argentina as a country that does not negotiate. This is completely untrue. After long negotiations, Argentina offered two debt swaps, in 2005 and 2010, which were voluntarily accepted by 92.4% of bondholders."
Minister Kicillof continued to address Newman's claim that Argentina were unwilling to negotiate, claiming that it was in fact the holdout hedge funds or 'vultures' who shied away from talks.
"The vulture funds have never negotiated. They have never lent money to Argentina. NML bought bonds at a value close to 50 million dollars. Judge Griesa's order would allow NML to be paid more than 800 million dollars, a profit of 1,600 percent in just six years," he pointed out.
"If instead of suing NML had accepted the debt swaps they would have tripled or even quadrupled their investment. But they want more than 300% profit, since they are not creditors of good faith for emerging countries.
"They are what they are: judicial and financial vultures", ends Kicillof's letter.
The Financial Times on Monday published a column by Jay Newman under the heading of "We holdouts are open to compromise but Argentina has to talk"
"Two weeks ago Axel Kicillof, Argentina's economy minister, flew to New York to give an inflammatory speech at the UN in which he blamed bondholders and the US legal system for his country's supposed inability to settle debts owed to thousands of investors.
Among those investors is Elliott Management Corporation, where I work. Our offices are a 10-minute drive from UN headquarters, yet Mr Kicillof flew home without even talking to us. When he gave a similar speech in Washington last week, I offered to meet Argentine officials anytime and anywhere while they were in the US. But they quickly returned to Buenos Aires.
For more than 12 years we have tried to convince Argentina to put its 2001 default behind it by negotiating in good faith with the remaining holders of its defaulted debt. I have travelled to Buenos Aires to try to initiate a dialogue. But our requests for talks have been ignored.
Mr Kicillof is in New York again this week to meet a mediator appointed by the US District Court overseeing this case, and again he has made no plans to meet us. Argentina says it will not even begin to negotiate with creditors unless the court suspends indefinitely a ruling that prevents the country from paying any of its creditors without also paying the holders of defaulted bonds. The court has said that such requests should be a matter for negotiation. Our firm could be persuaded to give Argentina more time if its government took concrete and serious steps towards meeting its legal obligations. But the silence from Argentina is deafening. It does not appear serious about reaching a timely resolution of its debts.
Argentina's officials propagate the myth that this dispute involves only a couple of hedge funds. In fact, most of the holders of the defaulted bonds are average investors from Argentina, Italy and elsewhere. Many were retirement savers who paid full face value. Our firm began buying Argentine bonds long before its default. We joined thousands of others in declining Argentina's coercive bond-exchange offers, which imposed steep losses on holders. As the International Monetary Fund noted: "No constructive dialogue was observed and the authorities presented a non-negotiated offer."
In the contract Argentina signed in 1994, it promised to rank its payment obligations on the original bonds equally with any new external debt, and to submit to the jurisdiction of US courts. Without these promises, a country that had earned a reputation as a serial defaulter could not have borrowed on such attractive terms.
Capital markets depend on enforceable contracts. As an appeals court judgment in this case put it: "Our decision affirms a proposition essential to the integrity of the capital markets: borrowers and lenders may, under New York law, negotiate mutually agreeable terms for their transactions, but they will be held to those terms."
Argentina says that if it complies with the court's orders, other holders of Argentina's defaulted bonds will file similar claims amounting to 15bn – depleting its foreign exchange reserves, which are only 30bn. This 15bn figure has never been substantiated; independent analysts put the number at half that. But this is beside the point. We and several other holders of Argentina's defaulted debt have made it clear that we would accept part of any settlement in bonds and other financial instruments, meaning that Argentina's foreign reserves would not be materially affected.
This is the model Argentina followed in recent settlements of 6bn with Spanish oil company Repsol and 10bn with the Paris Club of sovereign creditors. Neither deal strained its reserves; together they added only about 2 percentage points to the debt-to-output ratio, which stands at a modest 40%. These agreements brought Argentina closer to regaining access to international capital markets. But that day will never arrive until it settles with the holders of its defaulted debt. Such a settlement is not only affordable – it would reduce borrowing costs, saving businesses and the government billions of dollars. It would also attract investment, boosting the country's economic prospects.
If Argentina's ministers had met me, I might have put it this way. Defiant speeches have not helped the country move on from the 2001 default. A single honest discussion could relegate it to the past.