Mediator Pollack will receive Argentine delegation Friday in follow up meeting
Wednesday, July 9th 2014 - 08:14 UTC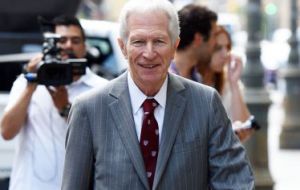 Argentina confirmed on Tuesday that the delegation headed by Economy Minister Axel Kicillof will continue talks with mediation Daniel Pollack, next Friday in New York, a 'follow up' of Monday's first appointment.
Cabinet Chief Jorge Capitanich in his daily report said on Tuesday that the Argentine delegation headed by Minister Kicillof that began negotiations with the court-appointed mediator Daniel Pollack in the country's dispute with holdout hedge funds yesterday will meet again with him on Friday.
"A follow up meeting has been scheduled for Friday, July 11," Capitanich said in his daily press briefing at the Government House where he underscored Argentina's willingness to pay its bondholders.
The official reiterated the request made by the Economy Minister to Pollack on Monday to reinstate an injunction allowing Argentina to pay bondholders. "An stay is essential to create acceptable negotiating conditions for 100% of bondholders," the Cabinet Chief said.
Capitanich referred to the statement released by the Special Master after the meeting and pointed out that both parties have identified the principal issues and have agreed to continue the talks.
The statement said that "Mr. Kicillof, the Minister of Economy and Public Finances for the Republic of Argentina, and I met for several hours today. I had previously met with principals of the largest bondholders late last week. The discussions have been frank, the principal issues have been identified, and the parties have indicated an intention to continue meeting." Mr. Pollack will not be making any further statement at this time.
Meanwhile President Cristina Fernández used social media network Twitter in order to criticize the conduct of holdout investors in their ongoing lawsuit against the Argentine government, while reiterating that the nation was committed to paying its debts.
Currently resting after suffering a bout of laryngitis, CFK used the medium to bring attention to a letter prepared by Economy minister Axel Kicillof in response to claims made by the so-called 'vulture funds'.
The head of state quoted her minister in six tweets. "The vulture funds have never negotiated, and have never lent money to Argentina. NML Capital Elliott purchased bonds in 2008 and immediately sued Argentina," she highlighted.
"Argentine has made clear since 2003 its readiness and capacity to negotiate. The vulture funds never wanted to meet the terms accepted by the vast majority of creditors. These are the reasons why the international community has supported Argentina's position in this case."
Cristina finished by repeating that her government was prepared to enter talks under appropriate conditions with the hedge funds.
"Argentina will continue to demonstrate its will to negotiate in fair, equitable and LEGAL conditions," she underlined, emphasizing the final point.