Pollack's hope is that dialogue between holdouts and Argentina will continue
Saturday, July 12th 2014 - 11:00 UTC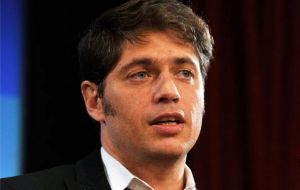 Argentine officials and holdout investors met separately with the New York court-appointed mediator or 'Special Master' for five hours on Friday, presenting their cases in hopes of resolving a litigation on defaulted bonds that has dragged on for years.
"The parties, including representatives of the Republic of Argentina and representatives of the bondholders, together with their respective lawyers, came to see me this afternoon. They each presented their positions to me, but not in the presence of the other side," Daniel Pollack, the Special Master appointed by US District Judge Thomas Griesa said in a statement.
"No resolution has been reached. It is my hope that there will be future dialogue," Pollack said.
The Argentine delegation, lead by Finance Secretary Pablo Lopez and without Economy Minister Axel Kicillof, attended the Friday meeting in New York at 1pm and left 5 hours later without making any comments.
In official communiqué, the Argentine Economy Ministry described the meeting was "eminently technical".
The Argentine delegation requested a stay in order to continue negotiations, as Argentina needs to seal a deal before a July 30 deadline with investors who rejected its debt restructurings.
Economy Ministry officials also explained Mr. Pollack the critical consequences Judge Griesa's interpretation of the pari passu clause could have on Argentina, as other holdouts could claim full debt payment for over 15 billion dollars, while saying a proper negotiation needs more time, stating the Repsol case, in which Argentina had talks with the Spanish petrol company for over two years.
"Argentina is willing to continue with a dialogue that will help find a solution in fair, equal and legal conditions for 100% of bond holders. To that effect Special Master was informed that it is essential that the Judge rules a stay injunction, given the magnitude of the money involved", points out the Argentine Economy ministry release on the meeting."
As an example, remember that the time demanded to reach an agreement with Spain's Respol was more than two years, with the last four months of intense negotiations, and in that case the sums involved were substantially lower".
US District Judge Thomas Griesa has ruled Argentina must immediately pay the group of holdouts, led by hedge funds Elliott Management Corp and Aurelius Capital Management, the bonds' full value worth 1.33 billion dollars plus accrued interest.
Griesa's ruling also ordered Argentina not to pay out to other investors who accepted large write-downs on their debt holdings until it had settled with the holdouts. More than 92% of investors agreed to receive less than 30 cents on the dollar in restructurings carried out in 2005 and 2010.
When Argentina in late June deposited a coupon payment worth about 539 million dollars with the government's transfer agent, Bank of New York Mellon (BONY), Griesa blocked any onward transfer.
Since then the bank has faced competing demands: from Griesa's court order, from investors who want their interest payment and from Argentina, which says the money no longer belongs to it.
On Wednesday the Bank of New York Mellon said Euro bondholders had threatened to sue the bank if it returned the funds to Argentina.
"(The bank) seeks clarification that it may comply with this Court's Injunctions by retaining the funds received from Argentina in the Banco Central Accounts where they are presently held," BONY wrote in the opening statement of the motion.