Russia interested in Argentina's shale deposits, says Cristina Fernandez
Monday, July 14th 2014 - 05:49 UTC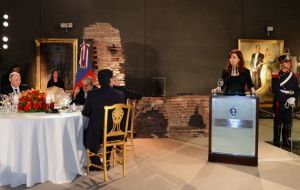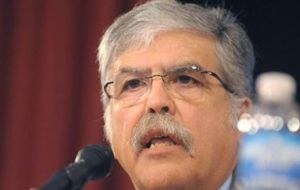 President Cristina Fernandez confirmed Russia's interest in investing in Argentina's Vaca Muerta shale formation in Patagonia and announced that a Russian delegation will travel soon to the area, which holds one of the largest shale gas and oil reserves of the world.
"A Russian delegation will travel to Vaca Muerta to visit one of the largest shale gas areas of the world," Cristina Fernández said. "We're talking about Russia, one of the world's top producers of gas and oil. But we Argentines also have our own and it seems like others have noticed."
At the same time Argentine Federal minister Julio De Vido said the visit of the Russian delegation to Vaca Muerta "creates a lot of expectations" regarding possible investment in the area.
De Vido described Russia's Gazprom energy firm as "one of the most important energy firms of the world." De Vido said "it creates a lot of satisfaction for us that they want to visit this area."
So far, US firm Chevron is the foreign oil company that has been most active in Vaca Muerta after it sealed a shale partnership with YPF, which has the rights over 36% of the formation.
YPF agreed to grant Chevron the rights to half of a 395-kilometre-square area in Vaca Muerta in exchange for 1.24 billion dollars for a joint venture that would drill 100 wells in a 20-square-kilometre area.
Argentina issued a decree establishing that companies with investment plans of at least one billion dollars in five years would be able to export 20% of their production after the fifth year and have free access to those dollars, meaning they could be sent to their headquarters abroad.
Cristina Fernandez and Putin signed agreements on peaceful nuclear development, communications and legal assistance, and described the bilateral relation as "strategic" in a multi-polar world.