Falklands' de-mining plans for next two seasons funded by FCO
Friday, July 18th 2014 - 07:21 UTC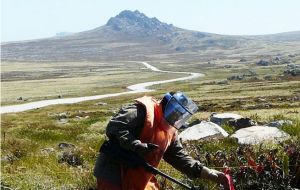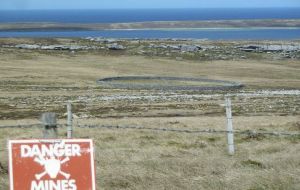 The Falkland Islands will be seeing further de-mining over the next two summer seasons funded by the Foreign and Commonwealth Office (FCO) that will also carry out a tender process for the works, according to a report from Penguin News.
Priorities for the next phase of de-mining were agreed at this week's Falklands' Executive Council meeting and include areas, "adjacent to roads which are considered potentially dangerous or which hamper maintenance, and to areas of high amenity value south of Stanley," said MLA Mike Summers.
This work is expected to take place over the next two seasons and will be subject to a tender process led by the FCO who are funding the programme.
Argentina brought 25,000 anti vehicle and personnel mines to the Falklands during the 1982 war of which 5,000 were accounted for.
Demining and land release operations carried out by British company BACTEC International in 2010 and 2012 - when the popular Stone Corral area near Sapper Hill was reopened to the public - cleared some six per cent of the remaining mines with more than 18,000 mines still in the ground on both East and West Falklands.
No British mines were laid during the war, however the British Government has the legal responsibility for the removal of land mines placed by Argentine forces.