Over 30% of Argentine children live in households below the poverty line
Friday, July 18th 2014 - 13:28 UTC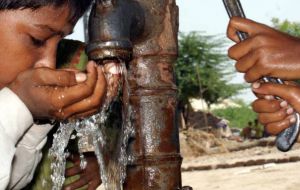 Four out of ten people in Argentina live in households where children suffer poverty conditions, according to the latest release from the Argentine Catholic University (UCA) Social Debt Barometer.
"In many households with children, three out of ten receive insufficient revenue to address the most basic consumption, while in the overall poor households' index (including those without children), the index is 17.8%" according to Agustin Salvia head of the research on Social Debt.
Taking into account the whole of the Argentine population, approximately 40 million, 27.5% live under poverty conditions (April 2013) which in numbers represents over 11 million people. However the index rises further when households with children are taken independently, and the index for those with adults only then falls to less than 10%.
Likewise regarding services, 32% of households are not connected to the sewage network and 11% do not have running drinking water.
According to UCA, the poverty condition is based on the cost of a basket of goods and services which varies according to the number and age of household members. For a family of two adults and two children, in 2013, total monthly income was expected to be more than 4.100 Pesos (anywhere from 350 to 500 dollars, according to the exchange rates, official or parallel) to be above poverty line. And available income shouldn't be below 2.000 Pesos (anywhere from 170 to 250 dollars) not to fall into indigence, which means income is not even enough to meet basic subsistence.
However for the Argentine government stats office, Indec, the cost of a basic basket to keep afloat from poverty in 2013 was 1.800 Pesos, or anywhere from 150 to 225 dollars.
This latest UCA report on 'the persistent social inequalities' and which has been done regularly for the last ten years, includes in the survey 5.700 households in Buenos Aires City, metropolitan Buenos Aires and 17 other locations with over 50.000 inhabitants, throughout the Argentine territory.
The report among other things shows that 11% of housing is extremely precarious and 20% of households in the 'villas miserias' or shanty towns suffer from overcrowding (three or more people per room). Likewise almost one in four people live close to some source of contamination such as garbage dump or a factory with not treated detritus.
Furthermore since the survey is limited to locations with over 50.000 people it excludes villages and rural settlements, which can be living in the fringes of poverty.
But the report also unveils other issues with dire consequences for the future. For example over half of Argentine workers don't have a stable job. Among those who are independent workers, seven out of ten do not make contributions to the social security or old age pensions' schemes, and something similar happens with a third of those who receive a relatively stable salary every month.
The low participation in the social security scheme, according to UCA is associated to the poor quality and low productivity of jobs in much of the Argentine economy, which in some cases is in the fringe of mendicancy. And is support of this statement the survey shows that one out of four people interviewed was unemployed at some point in the previous twelve months.