Barroso calls on EU and Mercosur to conclude the free trade agreement
Saturday, July 19th 2014 - 07:26 UTC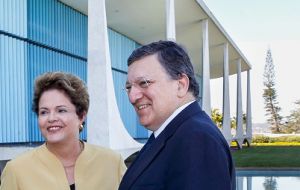 The president of the European Commission (EC), Jose Manuel Durao Barroso, called on Friday for concluding negotiations and finalizing a free trade agreement between the European Union and Mercosur, which includes Brazil, Argentina, Paraguay, Uruguay and Venezuela.
In an address at Brazil's University of Brasilia, where he was presented with an honorary doctorate, Barroso said it was time that more than decade-long talks with Mercosur nations concluded in a deal.
Such an agreement would represent an increase of billions US dollars in the gross domestic product (GDP) of Mercosur nations, and a nearly 40% increase in their exports to Europe.
The two sides were scheduled to meet at the beginning of this year to exchange proposals as part of the agreement, but the gathering was repeatedly postponed.
"The Mercosur and the EU have been 'engaged' for more than 15 years. Isn't it time to take the next step and make it official?", said Barroso, using language usually reserved for two people who have put off getting married.
"Brazil has a leadership role here. We know that it wants to make progress, but we also know that it does not decide alone and that the pace of other Mercosur members are different," he acknowledged.
"It's important not to waste time however, because we could end up being last," added Barroso, in reference to other trade agreements being negotiated by the EU, particularly with the US.
Both sides, EU and Mercosur, allege they have been ready to meet for some time, but their counterpart has put off presenting its proposals on various occasions. Apparently Argentina is rather reluctant in opening its domestic market to EU manufactured goods while several European countries fear the agriculture muscle of Mercosur.
The Portuguese-born Barroso, who met privately earlier in the day with Brazil's President Dilma Rousseff at the presidential residence, is set to step down from his EC post in August to make way for the Luxembourger Jean-Claude Juncker, who was elected to replace him this week.
It is well known that Barroso would like to step down from his post having signed the EU/Mercosur trade agreement, which would represent a great achievement for his years on the job.
Barroso is scheduled to visit Rio de Janeiro through Monday to meet with Brazilian political and business leaders.