Griesa rejects 'stay'; orders Argentina and holdouts to meet 'round the clock' to reach a deal
Wednesday, July 23rd 2014 - 01:10 UTC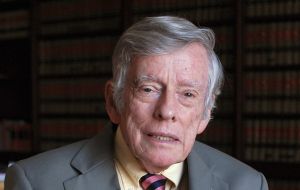 US Judge Thomas Griesa rejected on Tuesday Argentina's request for a suspension ('stay') on the ruling that ordered Buenos Aires to pay 1.3 billion dollars plus interests to holdout speculative funds and instructed Argentina and holdouts to meet on Wednesday morning for a first face-to-face meeting.
At the two and a half hour hearing called by Judge Griesa with legal representatives of Argentina and lawyers of holdout bondholders in New York, the District Court Judge rejected the Argentine government's request saying there is no need for a stay for negotiations to continue.
He ordered the parties to meet with Special Master Daniel Pollack and meet "continuously, round the clock, until a settlement is reached." The first face-to-face meeting between Argentina and the holdouts was called for Wednesday at 11 a.m. (Argentine time).
A lead holdout creditor, Elliott Management's NML Capital Ltd, said in a statement it was prepared to meet with Pollack to resolve the dispute.
"We are confident this matter could be resolved quickly if Argentina would join us in settlement discussions," NML said.
Argentina's lawyers in turn argued the country simply cannot pay holdouts by the July 30 deadline set by the Judge. Jonathan Blackman, a lawyer for Argentina, said the issues were too complex to resolve by the July 30 deadline and thus a settlement "can't be done by the end of the month."
Blackman said one problem is that U.S. bondholders who are owed 1.5 billion after refusing to exchange their bonds for lower-valued bonds after the 2001 default are insisting they receive 100% of what they are owed.
"We want to negotiate a settlement with everyone, but to do that requires movement," Blackman said.
He said that until the end of this year, the 92% of bondholders who exchanged their bonds are entitled to whatever improved treatment is given to bondholders who did not exchange for lower rates.
"In my view, the stay application is not something necessary to a negotiation or settlement," Griesa said. He added "every single problem" described by Blackman can be dealt with in a settlement aimed at averting default.
"There are ways to somehow avoid a default," the judge said.
Griesa said an Argentine default would be "most unfortunate" because it would harm 'real people' and urged the government to take "sensible steps" to avoid default. He bashed the government for its "incendiary rhetoric".
"Judgments are judgments," he underlined.
The meeting began at 11.30 a.m. with all eyes focused on the magistrate's decision on Argentina's request for a stay on the his ruling ordering Buenos Aires to pay 1.3 billion dollars plus interests to vulture funds that refused the country's 2005 and 2010 debt swaps temporarily.
The hearing was originally requested by European bondholders that have not received payments from Argentina since June 30 due to Griesa's ruling, along with the Euroclear and Clearstern financial services companies.
Other creditors with restructured bonds such as banks have also warned that the decision by the US judge to stop the payment in Europe goes against European jurisprudence, based on a similar case that Elliot Management, same holdout speculative fund now bringing a lawsuit against Argentina, brought against Nicaragua some years ago.