US economy creates 209.000 jobs in July but unemployment edges up to 6.2%
Saturday, August 2nd 2014 - 08:32 UTC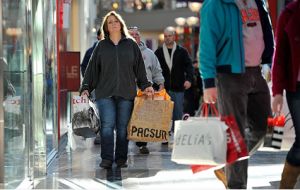 The U.S. economy added 209,000 jobs in July, the Labor Department reported on Friday. However the unemployment rate edged up to 6.2% from 6.1%, somehow confirming the Federal Reserve concern about still weak employment.
Economists had predicted an average 225,000 new jobs created according to several surveys. In June, stronger-than-expected employment numbers surprised Wall Street and economist when the Labor Department said a revised 298,000 jobs had been created.
The US economy strengthened significantly during the April-June quarter, the government said on Wednesday, after contracting sharply in the first three months of the year. Last quarter's bounce-back assuaged fears that the economy hadn't been strong enough to support this year's rapid hiring.
The US economy expanded at a 4% seasonally adjusted annual rate in the second quarter after a steep 2.1% contraction in the first quarter. US consumers stepped up their spending, particularly on autos, furniture and other big-ticket items. Businesses also spent more on plants, office buildings and equipment.
Signs suggest that employers have kept hiring at a healthy pace. ADP, a private payroll provider, said that businesses added 218.000 jobs in July, with most industries showing solid gains. (ADP's figures capture only private businesses and sometimes diverge from the government's more comprehensive numbers.).
Nevertheless the Federal Reserve in this week's report said that a range of labor market indicators suggests that there remains significant "underutilization of labor resources".