Brazilian auto industry drops 36% in June and drags industrial output
Monday, August 4th 2014 - 07:16 UTC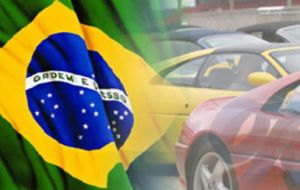 Brazil's industrial output fell 6.9% in June compared to the same month last year, mostly due to a contraction of the automobile industry, reported the official stats office last Friday.
The figure marks the worst year-to-year drop since September 2009, when the industrial output tumbled 7.4%, according to the Brazilian Institute of Geography and Statistics (IBGE).
The institute noted that the drop in production was linked to the 2014 Brazil World Cup, which ran from June 12 to July 13 in 12 Brazilian cities, where additional holidays were declared and factories were temporarily closed.
Compared to May, industrial production fell 1.4% in June, closing the first six months of the year with an overall drop of 2.6% compared to the first half of 2013.
Only six of the 24 industrial sectors studied by the IBGE registered an increase in output, including petroleum byproducts, bio-fuels, and food and beverages, while the one that contracted the most from the month before was the auto industry, with 12.1%.
Compared to June 2013, output in the automobile sector dropped 36.3%.
Brazil, Latin America's largest economy, is a major market for global automakers, such as Italy's Fiat SpA, Germany's Volkswagen and U.S.-based General Motors and Ford Motor.