Malvinas war and the 2001 and 2014 defaults, Argentina's worst mistakes in 33 years
Monday, August 4th 2014 - 07:09 UTC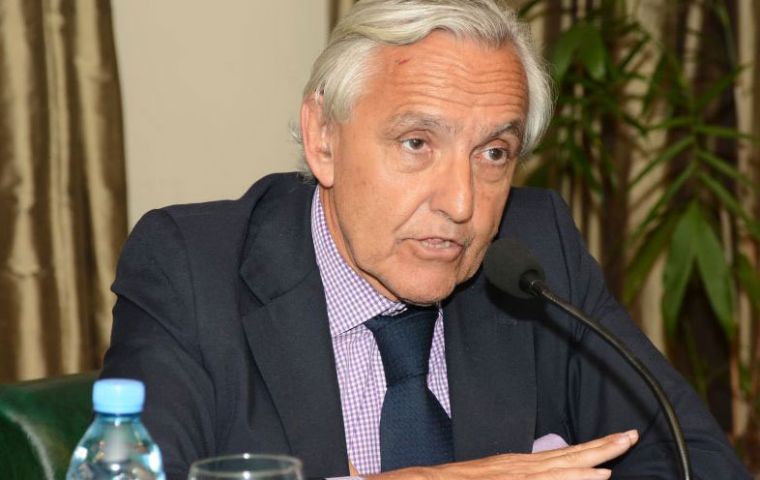 The Falklands/Malvinas war, the 2001 default and the 2014 default are "the three events that are going to go down, in recent Argentina history, as the three worst strategic mistakes committed by the country", according to political analyst and historian Rosendo Fraga.
"We could be before the third major historic mistake in 33 years. First the Malvinas war, then the 2001 default and now the 2014 default, they are three events that will mark a period of Argentine history, as major strategic mistakes committed by Argentina", said the director of the Center of Studies for a New Majority.
In an interview with a Buenos Aires radio, Fraga said that "to minimize the default is a major political mistake" which will have high social costs. "The Argentine economy is already in recession, with inflation, with a significant increase in poverty and unemployment. What we are going to see is a worsening of social costs".
Fraga added that the current situation leaves Argentina without access to credit in a context in which other countries are managing very low interest rates: "Mexico is issuing sovereign debt at 0.8%; Brazil at 3.5%; Bolivia, 4%; Congo and Kenya, 6%, even Greece in the midst of an ongoing crisis is managing 3.5%".
For this very simple reason "we are back stepping in our relations with the world, which only means hard times ahead".
Fraga also pointed out that the posters which have been plastered all over Buenos Aires; "Motherland or vultures" or as the previous ones "Griesa or Cristina" are part of a government strategy to convince public opinion.
"Polarizing for a government that already has a weak position before public opinion, can allow it to expand its support base", argued Fraga.
The posters refer to the speculative funds or vulture funds and to Judge Thomas Griesa from the New York court and Cristina Fernandez.
Finally Fraga argued that "whether we like it or not" the use of the word 'default' is correct and the "worst thing we can do is to deny it".