Brazilian presidential candidate dies in air crash; three days national mourning
Wednesday, August 13th 2014 - 21:58 UTC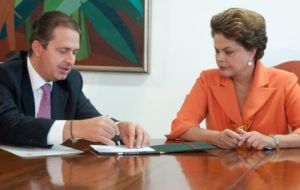 Brazilian presidential candidate Eduardo Campos, a contender to unseat President Dilma Rousseff in October elections, died Wednesday when his campaign jet crashed in the city of Santos, killing all seven people aboard.
Campos, a 49-year-old socialist who had been running third in the polls, was flying to Sao Paulo to record a TV segment when his Cessna 560XL slammed into a gymnasium and several houses, breaking into pieces and igniting a large fire.
Rousseff declared a state of national mourning and suspended her campaign for three days.
"All of Brazil is in mourning. We lost a great Brazilian today, Eduardo Campos. We lost a great comrade," the president said in a statement.
Campos's plane was en route from Rio de Janeiro's Santos Dumont airport to Guaruja airport outside Sao Paulo when it hit bad weather, according to air force spokesman Pedro Luis Farcic.
"As it was preparing to land, the plane fell due to bad weather. Air traffic control then lost contact with the aircraft," he said.
All seven people aboard the plane died, the air force told media network Globo. The other passengers were advisers, a photographer and a videographer.
Flaming piles of rubble sent up a large column of smoke, and several houses were on fire. Santos firefighters said at least 10 people were injured, according to Globo's online news portal G1.
The air force said it had launched an investigation into what caused the medium-sized jet to crash. Santos is Brazil's main overseas port, 70 kilometers from Sao Paulo.