Argentine official inflation in July, 1.4% and 16.7% in first seven months
Saturday, August 16th 2014 - 08:32 UTC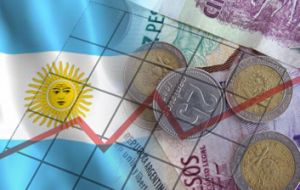 Argentine inflation rose 1.4% during July leaving consumer prices 16.7% higher than at the beginning of the year, official data showed on Friday. The July index was slightly higher than the 1.3% of June and confirms Argentina is experiencing one of the highest inflation rates in the world and only second to Venezuela in Latin America.
Transport and communication prices were up 2.6% in July while recreation costs climbed 3.1%, education, 1.5% and Home supplies and maintenance, 1.4%.
The official stats office Indec, has been at the heart of a long standing controversy since 2007 when deceased president Nestor Kirchner removed professionals and replaced them with political appointees that ensured the annual index was below two digits, His successor and wife Cristina Fernández continued with the same policy and inflation last year clocked 10.9%.
However beginning this year the government of Cristina Fernandez adopted a less radical policy towards multilateral organizations and among some gestures implicitly accepted IMF criticism which repeatedly stated that Argentine inflation and GDP stats were not 'reliable'.
Following on this argument the Argentine government begun elaborating a new more encompassing consumer prices index (with IMF advice) which gives a fairer picture of market values, although it is still far from the so called Congressional index, an average of private consultants, regularly released by opposition members from the Lower House Freedom of Expression Committee.
According to that index released on Thursday the July inflation was 2.47% and 39.71% in the last twelve months, which seems a more realistic figure and is followed by unions, businesses and economists.
In effect a currency devaluation in January fueled inflation as Argentine businesses and merchants raised prices to adjust to the new exchange rate. Private economists say Argentina's inflation rate will exceed 30%, close to 40% in 2014, compared with about 25-30% last year.
Likewise according to Indec, wholesale prices climbed 1.3% while the cost of construction was up 4.7%.