Chilean ferry strikes rocks and is half sunk in the Puerto Natales/Puerto Montt link
Tuesday, August 19th 2014 - 09:10 UTC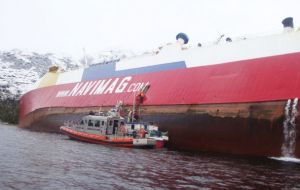 The Chilean navy is deploying two vessels to contain possible fuel leaks, in the area where a Navimag ferry on Monday morning struck a group of rocks and is half sunk and half resting on a beach.
The ferry links Puerto Natales in Magallanes Region with Puerto Montt and has a 4.500 tons freight capacity. She was stranded in the Kirke pass.
The 17 passengers and 10 of 28 crew members were rescued unharmed and shipped to Puerto Natales, 50 miles southeast, while the remaining 18 were tasked with trying to block the hull damage. However later in the evening they were also sent to Puerto Natales.
According to a Chilean navy report most of the ferry's hold and engine room are under water and the ferry is listed 60 degrees, but with the bow on the beach which ensures it won't sink.
With the deployment of a navy general services vessel and the patrol vessel Pilot Sibbald, the Chilean navy expects to send divers to inspect the hull and overall situation of the Amadeo I, and most importantly check on any possible fuel leak or spillage. Both vessels are prepared for the contention of a spill.
A navy Dauphine helicopter was the first to overfly the area early Monday when the first distress calls were received in Punta Arenas.
The Navimag ferry was built in 1976, is 132 meters long with a 4.500 tons cargo capacity and can carry 52 passengers. She cost 7 million dollars.
Navimag Operations manager Jorge Biott said that the company has another ferry that will run the Puerto Natales/Puerto Montt schedule. Ironically, according to company sources the vessel was carrying a container with equipment precisely for sea or land spillage emergencies.