Chile's economy cooling faster than expected: weakest pace since 2009
Wednesday, August 20th 2014 - 09:43 UTC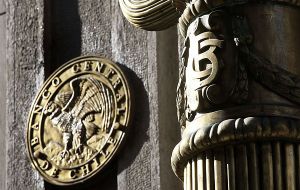 Chile's GDP grew at its weakest pace since 2009 in the second quarter as investment waned and a previously rapid expansion in consumer spending slowed, central bank data showed. The economy grew 1.9% in the second quarter compared with a year ago, or a seasonally adjusted 0.2% compared with the first quarter.
That implied annual growth of 2.2% for the first half, after the first-quarter reading was revised down to 2.4% from the bank's previous 2.6% estimate.
The annualized second-quarter figure was the worst performance for the economy since it contracted in the third quarter of 2009 at the height of the credit crunch.
It was not, however, a surprise. Chile's economy has been cooling rapidly as a downturn in mining investment has spread to other sectors. Domestic demand in the second quarter fell 0.9% compared with the first three months of 2014, the bank said.
The reading "was a reflection of the weak performance of the majority of economic sectors" said the bank, highlighting manufacturing, agriculture and retail as the biggest drags on growth.
In June, the central bank estimated that growth in 2014 would be between 2.5% and 3.5%. The bank has reacted to the slowdown by entering an easing cycle, cutting the benchmark interest rate 150 basis points since October.
One bright spot was the current account, which showed a slim surplus of 28 million in the quarter. The Chilean peso has weakened around 9% since the start of the year versus the U.S. dollar, a major contributor to an around 9% drop in imports in the quarter compared with a year ago.