An estimated 36.500 tourists and 54 vessels expected this coming Antarctic season
Friday, August 22nd 2014 - 00:01 UTC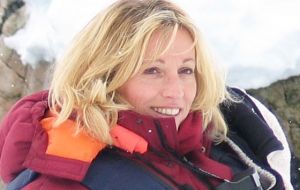 During the upcoming Antarctic season, from November through March, 36,545 tourists are expected to visit, according to estimates compiled by the International Association of Antarctica Tour Operators (IAATO). That's a slight dip from the 37,405 who visited in 2013-14, which was a 9 percent increase from the previous year.
Still, both totals are considerably below the peak of 46,265 people who visited Antarctica during the 2007-08 austral summer.
"After a period of strong annual growth in the number of tourists visiting Antarctica in the period from 2003 to 2007-08, the numbers dropped dramatically," said Dr. Kim Crosbie, executive director of IAATO.
"It is believed that this is primarily due to the global economic downturn, which affected many in the travel industry. The following seasons saw a steady decrease, including a further notable drop in 2011-12 following the subsequent ban of the use and carriage of heavy fuel oil."
In the 2011-12 season, only 26,500 people visited Antarctica. But after that, cruise ships adjusted to the heavy fuel oil ban and the total number of visitors rose and now remains between 34,000 and 37,000.
"Since 2011-12, there has been a slight recovery in the overall numbers although there is little change forecast for this coming season," Crosbie said. "Within the annual changes over the past few seasons, there have been some interesting trends, such as the increase in the number of Chinese tourists and the growth in some of the smaller sectors of the industry such as air-cruise operations."
For the upcoming season, IAATO estimates that 71% percent of the visitors will travel to the Antarctic Peninsula on vessels carrying fewer than 500 passengers that make landings ashore. About 27% will visit on ships with more than 500 passengers, which do not make landings. Just one percent will fly to the Antarctic Peninsula.
In all, 54 vessels are expected in 2014-15.
Most travelers to Antarctica — 33.2% — were from the U.S. during the 2013-14 season, according to IAATO. Others visited from Australia (11%), China (8.9%), U.K. (8.1%), Germany (7.7%), Canada (5.4%), France (2.7%) and Switzerland (2.3%). Just under 21% came from a variety of other countries.
The growth in Chinese visitors is dramatic, rising from just 0.2 percent 10 years ago to almost 9 percent last year.
Another interesting trend noted by Crosbie is the rise of air-cruise combinations. These trips fly travelers to the Antarctic's South Shetland Islands, where they board ships to make landings on the peninsula. Last year, 5% of Antarctic visitors took this style of trip.
Quark Expeditions offers several such trips, which allow travelers to fly over the notoriously rough Drake Passage and shorten an Antarctic adventure. The eight-day "Antarctic Express: Fly the Drake" trip departs Jan. 20 and is priced from 8,995 dollars. The three-hour flight from Punta Arenas, Argentina, lands on King George Island.
The vast majority of people take cruises that begin in southern South America, primarily Ushuaia, Argentina. Hurtigruten offers 10-day trips from 7,985 with departures on Nov. 19, 2014, and Jan. 4 and 16, 2015, as well as Nov. 17, 2015, and Jan. 4 and 16, 2016. The cruises are operated by the 256-passenger Fram.
One of the coolest options Hurtigruten offers is an overnight camping excursion, in which no more than 15 people spend the night on land in winter sleeping bags and expedition tents. The location and day of the camping adventure during the voyage will be determined by the local expedition team, depending on the weather and land conditions. It is priced from 530.
Silversea Cruises' luxury expedition division has scheduled 10 departures, mostly round-trips from Ushuaia, on the 132-passenger Silver Explorer, from November to early March. Fares start at 10,150.
Luxury line Seabourn is operating four 21- to 24-day Antarctic voyages this season between Valparaíso, (Santiago) Chile and Buenos Aires, Argentina, beginning Nov. 29, 2014, on the 450-passenger Seabourn Quest. The "Ultimate Antarctica & Patagonia" voyages will include a 17-person expedition team, which Seabourn says is one of the largest on any ship going to Antarctica. Fares start at 9,999, according to Seabourn's website.
There also are expected to be just seven departures of cruises that sail through Antarctica but don't make landings. Azamara Club Cruises offers one, a 17-night voyage Buenos Aires round-trip departing Jan. 10, 2015, priced from 6,199. It includes three days of cruising in the Antarctica Sound as well as visits to the Falkland Islands, Ushuaia and Montevideo, Uruguay.