UK embassy in Chile hosted launching of the Oxford University Alumni Society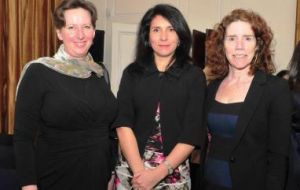 The British Ambassador to Chile, Fiona Clouder, hosted a reception for the launch of the Oxford University Alumni Society. The event held at the British residence in Santiago was attended by current and former Oxford students, professors as well as other professionals interested in supporting the Society.
The British Ambassador opened the event by conveying her support for the Oxford Alumni Society as a representation of the strong relations between the UK and Chile. She noted how these relations span across a wide range of topic areas that hold great potential for contributing to Chile's future minds and leaders.
After the Ambassador's words of welcome, Leigh Payne, Professor and Director of the Latin American Centre at University of Oxford, gave a thought provoking talk on 'Overcoming Impunity: Pathways to Accountability in Latin America'.
In her presentation she explained her current research on comparing Amnesties in Latin America to those in other parts of the world. She discussed the issues of 'Disappearances', 'Group targeting' and the large percentage of guilty verdicts and Amnesty overrules coming from Latin America.
Isabel Palma, chairman of the Oxford Alumni Society, highlighted the society's value, not only for those within the Oxford community for maintaining contact, but also for "acting as a bridge for diffusing ideas and opportunities to a wider audience."
She emphasized that "this is not a closed group, the event was open tonight to all those interested." Isabel also noted how promising it was for Chilean and British students to take such an international interest and unifying through the medium of education.