Uruguay's main agro-business show opens on Wednesday at the Prado greens
Monday, September 1st 2014 - 10:43 UTC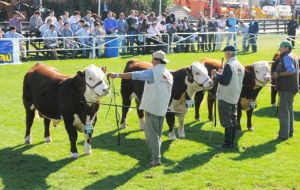 Next Wednesday Uruguay's main agro-show at the Prado's greens will open to receive over 2.277 livestock among which will be selected the top cattle (meat and dairy), sheep (wool and lambs), horses and swine of the country, in a display of advanced genetics.
The show will extend until 14 September and is open to the public as a showcase of the significance and contribution of agriculture and livestock breeding to Uruguay's economy.
"As it is traditional we will be able to see the best of Uruguay's genetics, which advances year after year", said Ruben Echeverría, president of the Uruguayan Rural Association, the official organizer of the event that in this edition is international.
"In the different breeds to the exhibited more than the work of a whole year, what will be outstanding is the genetics, farmers that for generations have been involved in improving the quality of our livestock, yields and adapting to market demand, which is an example of farmers' commitment to national production", added Echeverria.
A total of 679 cattle from 14 different races have been registered, of which 244 Aberdeen Angus; 186 Hereford and Polled Herefords; 21 Braford; 20 Shorthorn; 14 Brangus; 12 Limousin; 11 Charolais; 11 Senepol; 5 Belted Galloway; 4 Murray Grey and 1 Brahaman.
Milk cattle include, 90 Holstein; 40 Normand and 20 Jersey.
A total of 353 rams and ewes from 13 different races will be participating: 75 Corriedale; 65 Texel; 48 Merino and Poll Merino; 37 Romney Marsh; 29 Poll Dorset; 31 Merilin; 21 Hampshire Down; 20 Ideal; 12 Suffolk; 11 Ille de France; 10 Fresian; 2 Dorper and 2 Southdown. Finally 329 horses, 25 swine, plus goats and chickens.
The judges for the main cattle, sheep and horse breeds are foreigners. Following this week's selection, sales begin on 8 September, and the closing ceremony on Saturday 13 September.
There will also be display of gauchos dexterity with horses and special prizes for the most skilful riders.
Since this is election year, (last Sunday of next October), the four presidential candidates of the four political parties with congressional representation have been invited to a conference on the future of farming in Uruguay and the different parties programs on the issue.