Kicillof in China to confirm loans and a much needed swap dollars
Wednesday, September 3rd 2014 - 06:37 UTC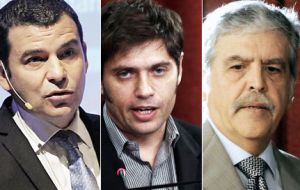 Credit strapped Argentina is wooing Beijing and with this purpose Economy Minister Axel Kicillof, Planning Minister Julio De Vido and YPF oil company CEO Miguel Galuccio are currently on an official trip to China, aimed at gathering funding for public works including two dams and one nuclear power plant.
Following the visit of Chinese President Xi Jinping to Argentina last July, Kicillof met Deputy Finance Minister Shi Yaobin to analyze the bilateral relation between the countries, Argentine official sources revealed.
"During the cordial dialogue we expressed our intention to increase cooperation between China and Argentina, with the goal to improve the relation for the future," an Economy Ministry press release stated in Buenos Aires.
"The uncertain financial situation worldwide and the slow recovery of the economies within develop countries were discussed as well, while emphasizing the solid and growing commercial relation between China and Argentina," it added.
Yaobin expressed his gratitude before the Argentine delegation for the meeting, as Kicillof assured to be "very thankful for this reception. This visit will bring fruitful results because we have established another channel for a direct dialogue," he said.
CEO Galuccio , Kicillof and De Vido participated in a dinner with local authorities and financial firms at the Argentine embassy in Beijing.
The China Satellite Launch and Tracking Control (CLTC) firm announced De Vido the space observatory which this company is building in Nequén province will turn operative in 2016, with an investment estimated in 300 million dollars.
On Wednesday the Argentine delegation is scheduled to meet President of National Commission for Development and Reform, for the signing of commercial agreements to supply equipment and services for Atucha III nuclear power plant.
However despite all the official rosy announcements the fact is that China's Dagong Global Credit rating agency declared Argentina in default following its litigation with US court Judge Thomas Griesa, and this could become an impediment for the promised Beijing loans and even for the 11bn dollars special swap agreed between the two countries central banks, in case of an emergency.
Apparently last week the Argentine central bank was planning to request a billion dollars from the special swap and Kicillof and other top officials visit was linked to this and the Chinese default credit rating.
The version was denied by the central bank which insisted it was actually a road show to further attract investments to Argentina and prepare Cristina Fernandez official trip to China sometime next November, following on Xi Jinping's visit.
But the fact is that NML Capital, one of the holdouts litigating Argentina appealing to the 'discovery' ruling has been looking into the possibility of an injunction of funds from the China/Argentina promised financing (some 4bn dollars to build among other things two dams, one of them with the name of Nestor Kirchner).
Likewise the agreement signed with China includes an 'acceleration' clause which means Beijing can demand the immediate full return of any loan extended, with no possible sovereign argument to impede it, if a situation emerges which threatens those funds.