Argentina's dispute with holdouts "will not affect" Chinese investments, says Beijing
Thursday, September 4th 2014 - 05:20 UTC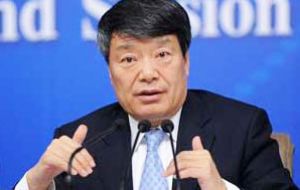 The current legal dispute between Argentina and holdouts ("vulture funds") suing the country over its defaulted bonds "will not affect" planned Chinese investments, since Argentina and China have a 'strategic association', the head of the National Commission of Development and Reform (CNDR) of China Xu Shaoshi, warned on Wednesday.
Meeting on Wednesday with a top level delegation from Argentina which included Planning minister Julio De Vido, Economy minister Axel Kicillof and other officials, Xu Shaoshi expressed confidence in Buenos Aires and investing in Argentina.
"What happens in the rest of the world, will not affect the decision to continue collaborating and working with Argentina because we have a strategic association" said the Chinese official who was also confident that Argentina would reach a fair and balanced solution to the conflict.
CNDR chairman met with Kicillof, De Vido and representatives of Chinese companies and banks in which they all "agreed on stressing the significance of (holding) permanent dialogue to start moving the agreements signed in Buenos Aires during the visit of President of the People's Republic of China Xi Jinping back in July, taking the relation to a Comprehensive Strategic Association" De Vido's office said in a statement in Buenos Aires.
The De Vido office added that among the main issues addressed were the infrastructure projects such as the projected two hydroelectric dams in Santa Cruz (to be named Nestor Kirchner and Jorge Cepernic) and railways cooperation.
Kicillof said he thanked Beijing for its support of Argentina in the litigation with holdouts, both at the G77 plus China and the BRICS summit.
Earlier in the day the Argentine delegation in Beijing signed a bilateral agreement to impulse the building of Atucha III power plant using Chinese investment funds.
The reunion took place at the Tioayu Tai State Guest, and was headed by ministers Kicillof and de Vido, while their counterparts from the National Commission for Development and Reform (NCDR) and members of local banks and firms.
According to Argentine sources the deal involves a founding estimated in two billion dollars, aimed for Chinese products and services, including a third a country, and 3.2 billion dollars in Argentine origin suppliers.
The new nuclear plant will be run via a CANDU reactor through natural uranium and heavy water, and is expected to reach a power capacity close to 800 megavolts. The complex will be built in Lima town, Buenos Aires province.
CNDR deputy Wang Yo Ming, Vice president of Chinese National Energy Gu Jun, China Development Bank (CDB) second in command Wan Yong Sheng and Chinese Ambassador in Argentina Yang Wan Mig, were all present in the event.
YPF CEO Miguel Galuccio, Argentina's Ambassador in China Gustavo Marino, Economy Legal and Finances deputy Nicolás Diana, and head of Atomic Energy National Commission Norma Boero integrated the Argentine delegation.