UK agreement in principle for 'ad hoc' talks with Spain and Gibraltar
Tuesday, September 9th 2014 - 04:22 UTC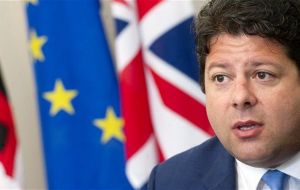 The British Government has confirmed that after the "disappointment" of delays it has now reached "agreement in principle to the terms for talks and are discussing with both the Spanish Ministry of Foreign Affairs and the Government of Gibraltar how and when talks can be organized."
In the formal, blow by blow, response to the recent House of Commons Foreign Affairs Committee report on Gibraltar the UK government state that they hope that progress can be made in the near future to get these talks underway.
The 'ad hoc' talks idea - a classic diplomatic nuance of imprecision - relates back the 2012 when the then Foreign Secretary William Hague wrote to his Spanish counterpart.
"We have consistently maintained that dialogue is essential if we are to see a long-term improvement in our relationship with Spain. It is regrettable that this Spanish government is no longer willing to engage in talks in the tri-lateral format; we remain committed to this and continue to believe that it represents the best long-term structure for meaningful discussion and resolution of issues," says the UK policy paper.
Britain uses the FAC response to reiterate many of the key statements it has made over the past year as well as consistently before that. The Committee visited Gibraltar earlier this year to hear directly from Chief Minister Fabian Picardo on issues affecting the Rock.
The response also contains a veiled hint that UK would factor Spain's position on Gibraltar as an element in considering support for their application as a non-permanent member of the UN Security Council which is to be decided in six weeks' time. There have been indications from other sources that Spain hopes to raise the issue at that level if it secures a seat.
"The UK has a long standing policy of not revealing our voting intentions in UN Security Council elections. We carefully consider any application on its merits, taking into account contributions to the work of the Council, including to peacekeeping operations and to the UN more broadly," says the UK statement.
To criticism on the response to Spain the UK Government declares that "summoning is a very serious form of diplomatic protest and the extent to which we have employed it is unprecedented for an EU and NATO partner."
But it is also pleased that the Committee endorses its policy of avoiding a tit-for tat escalation which "would not lead to a substantive improvement in the situation for the people of Gibraltar". However, it says UK is clear that it sees "a curtailment of areas of non-essential co-operation or a withholding of UK support as legitimate avenues to pursue in the event of a serious escalation or egregious provocation by Spain."
There is an emphasis of the "unreserved" position on the issue of talks with Spain.
"The Government remains unreservedly resolute in its commitment never to enter into arrangements under which UK sovereignty over Gibraltar would pass to another State against the wishes of the people of Gibraltar, and not to enter into a process of sovereignty negotiations with which Gibraltar is not content. This "double-lock" on sovereignty is the keystone of our policy on Gibraltar. Furthermore, Gibraltar's Constitution enshrines the principle that all peoples have the right of self-determination, and provides for a modern and mature relationship between the UK and Gibraltar."