There are two Mercosur, but only the ideological one prevails
Thursday, September 11th 2014 - 17:00 UTC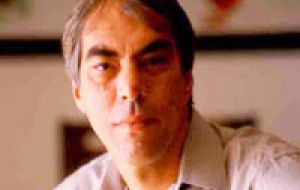 The original Mercosur is over; it has been reduced to a political block with a three member board, Brazil, Argentina and Venezuela, according to Demetrio Magnoli a renowned Folha de Sao Paulo columnist who added that the 'political' Mercosur has helped the Alliance of the Pacific to advance.
"There are two Mercosur: the original one involved in trade, economics, non ideological and open to globalization, and a second which begins with Venezuela and is limited to a political board of three; the original Mercosur is over", indicated Magnoli.
The Brazilian columnist said that Mercosur as it stands now is of no use for Paraguay and Uruguay since small economies need foreign trade and "there is no way it can sit and negotiate with the European Union, the US or any other of the large blocks or economies".
Magnoli anticipated that whoever wins in Brazil's election, Dilma Roussseff, Marina Silva or Aecio Neves, the next government will be forced to reduce Mercosur to a free trade area so that it can negotiate other trade deals avoiding the veto from Argentina and Venezuela.
Making Mercosur ideological inevitably strengthens the Alliance of the Pacific (Chile, Peru, Colombia and Mexico) which is open to trade, to globalization, foreign investment, and "Uruguay and Paraguay are doing the right thing by moving towards the Pacific".
Regarding the 5 October election, Magnoli said that Marina Silva, the big surprise, is attracting voters that reject the current political system in Brazil which has made of the state a political machinery of the Workers Party.
"They felt they were out of the system and now have a reason to vote, Marina, who by the way is no 'radical', her economic advisors are all orthodox; but above all Marina irradiates trust, confidence".
Magnoli argued that after twelve years of Workers Party, (eight years of Lula da Silva and four for Dilma Rousseff) a renewal in office would be good for Brazil, for the Brazilian economy and foreign policy.
"Lula and Dilma made some social reforms because there was abundant money, but there were no structural changes, a lost decade. They followed the statist, protectionist, conservative tradition of Brazil which started with Getulio Vargas. The only rupture and attempts to change happened in the nineties with Fernando Henrique Cardoso", said Magnoli.
The political analyst was also very critical of current Brazilian foreign policy: "they are true contortionists, you never heard Dilma or Lula condemning attacks on democracy in Venezuela or Cuba, but you heard all the public statements on Gaza. Massive imprisonments and deaths in Venezuela do not exist for Brazil".
"The Workers Party and leaders should remember they are the children of restored democracy following 21 years of military dictatorship, but since they have a very strong left wing international anti-American root, they end up with these contradictions, each time more evident and ridiculous".
Magnoli said that this 'anti-Americanism' in foreign policy helps to cover-up the lack of reforms and conservative economic policies.
"Brazil pretends a permanent seat in the UN Security Council, but with hostility towards the US it's difficult to forecast. And as I said before this foreign policy only helps to strengthen the Alliance of the Pacific which attracts the most economically prosperous countries. I think these last twelve years have been a major historic failure for Brazilian foreign policy".