China constructing a satellite tracking station in Argentine Patagonia
Friday, September 12th 2014 - 01:43 UTC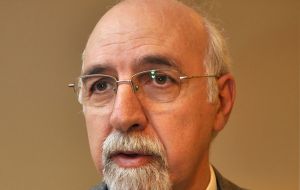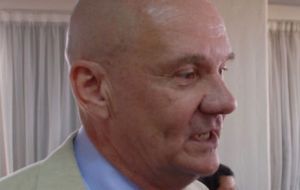 A space tracking station for lunar exploration being built in Argentine Patagonia by China, as part of the strategic relation and accords between the two countries, has caused concern in the Argentine congress because of the secrecy surrounding the terms of the deal.
In effect the construction of the station in Neuquen, 1.380 kilometers from Buenos Aires in an area covering 200 hectares, already involves hundreds of workers and heavy equipment, but the conditions of the accord, which must be approved by the Legislative apparently contain several confidential clauses which signatories are not prepared to reveal.
The deal involves Argentina's National Commission of Space Activities, Conae, has some clauses that have surprised lawmakers: the land is ceased for fifty years; Argentina 'will not interrupt normal activities' at the station; staff working in the station in Neuquen will be ruled by Chinese law and the Chinese government ensures Argentina "will not be hold accountable for claims of any nature".
According to the Neuquen province minister Rodolfo Laffitte, the space antenna will be finished and ready to operate next February. If works are so advanced why then is congressional blessing?
Once the construction work is over, the Chinese experts and laborers will arrive in Neuquen with the space tracking equipment. The Chinese counterpart of Conae, the National agency for the launching and control of satellites, CLTC, will be running the show since Argentina will only be able to make use of 10% of usable time, that is "2 hours and forty minutes per day for scientific and technologic activities".
However 'confidential' issues and other details were not included in the accord package sent to Congress and there is concern the station could be used by the Chinese to track missiles. A concern allegedly shared by the Argentine military since the Ministry of Defense was not consulted on the space station.
Conae chairman Felix Menicocci questioned by the Senate Foreign affairs committee denied any Chinese military personnel would be involved, a fact apparently confirmed by the Chinese embassy in Buenos Aires.
But several opposition senators pointed out that the tracking technology is of dual purpose "civilian and military" and highly sensitive. Furthermore in China "these tracking programs of space and missile activities are integrated", and CLTC specifically depends from the Arms Department and the Military Central commission from the People's Liberation Army of China.
Finally the Neuquen project once finished will be under the custody of the Gendarmerie, which in Argentina is responsible for controlling borders.
The space station is thus one of several projects agreed by Argentina and China which also includes, financing infrastructure (hydroelectric dams), fisheries advantages in the South Atlantic and the swaps at Central banks level which gives Argentina access to much needed hard currency, in this case globally traded Yuans.