Free fall for Cristina Fernandez with record negative image and support
Monday, September 15th 2014 - 05:07 UTC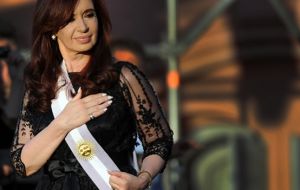 The negative image of Argentine president Cristina Fernandez climbed this month to 43.8%, the highest since last May, according to the latest release of the Management & Fit public opinion polls, published in the Buenos Aires media.
On the other hand the positive image of the Argentine leader dropped to 26.5%, two points below a month ago and miles from the 59.1% back in February 2012 a few months after taking office following her re-election.
The poll also indicates a strong disapproval of the government's performance since six out of ten Argentines consulted are not satisfied with the way the country is being managed, while only three out of ten support it.
Likewise the member of the Argentine government with the worst performance and acceptance level, according to the opinion poll is Vice-president Amado Boudou who has been formally accused in court of at least two alleged cases of corruption; he has a negative image of 66.7% and only 6.1% support.
With fourteen months before presidential elections in Argentina, almost 40% of the interviews said they had no confidence at all in the future performance of the Cristina Fernandez administration, while another 22.4% expressed conditioned confidence.
In October 2011, Cristina Fernandez was re-elected with 54% of ballots, and almost forty points ahead of her runner-up. A record and only comparable to the results of some of the elections won by Juan Domingo Peron, considered the most outstanding political figure of Argentina in the second half of the XXth century.
According to the media, the Management & Fit opinion poll was done between September 2 and 9, with 2.400 interviews nationwide.