Mercosur/Pacific Alliance foreign ministers plan to meet in Chile in November
Tuesday, September 16th 2014 - 05:28 UTC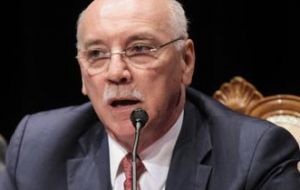 Foreign affairs ministers from Mercosur and the Pacific Alliance will be meeting next 24 November in Santiago de Chile to explore a possible integration between the two blocks according to Paraguay's foreign minister Eladio Loizaga.
"Mercosur must look outwards and stop looking at its belly button", said Loizaga on announcing the meeting.
"Even when trade among Mercosur members has grown significantly, it favors some countries and others not so much. This is the case of Paraguay which has a considerable trade deficit with Argentina", said the ministry's release.
Argentina, Brazil, Paraguay, Uruguay and Venezuela must look "into the exact point of what Mercosur should be, and forget pretending to award it a greater emphasis in politics than trade and economics; it must become a Mercosur concerned about economics and trade, and with greater solidarity among its members", insisted Loizaga.
Regarding Paraguay's request to become a member of the Pacific Alliance (Chile, Colombia, Peru and Mexico), Loizaga said that the three pillars of such a move must still be defined, and recalled that the incorporation process is slow, takes its time.
He added that Paraguay was interested in building together with Chile and the other Pacific Alliance members the necessary foundations to channel its agriculture and livestock production.
Last June Loizaga attended the IX Pacific Alliance summit in Mexico where it reiterated its interest in becoming a member. Currently as with 31 other countries, Paraguay has an observer status in the Alliance.