Cristina Fernandez blames Griesa and US embassy for "speculative attacks" against her government
Friday, September 19th 2014 - 06:20 UTC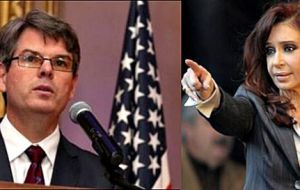 President Cristina Fernández de Kirchner assured on Thursday that Argentina is under "permanent speculative attack headed by US Federal judge Thomas Griesa," and criticized "local vultures who have amplified the offensive to the point of ridicule."
The message released via the head of state's official web page referred to recent media articles from Wednesday, affirming US airline company American Airlines would restrict advance sales of commercial flight tickets to Argentina for a 90 day period.
Cristina Fernández dismissed such reports, and in an attached message from the Central Bank responded to the accusations.
"Such restrictions don't exist", the President affirmed, while adding that "this is an attempt to create false expectations through lies and speculative attacks on the national currency."
The president linked this alleged attacks with the comments made earlier this week by Kevin Sullivan, US Chargé d'Affairs in Argentina who told Clarin newspaper that "it is important that Argentina get out of default" in an interview published last Monday.
She defined these statements as "absolutely inappropriate."
The president proceeded by enumerating a five-point plan describing the holdouts' judicial strategy in their struggle with Argentina, and which according to her, several high ranked people were involved the planning, including a former George W. Bush official surnamed Gutierrez.
"We've seen this movie before and it ended badly in 2001," she said, alluding to the social and economic crisis the country underwent during that year.
The message which has been released in her Twitter account as well, took place moments before the head of state left the country to meet Pope Francis, in a private audience at the Vatican; an official visit prior to Cristina Fernandez speech at the UN General Assembly next Wednesday.