EU hopeful the free trade accord with Mercosur will be reached next year
Friday, September 19th 2014 - 07:28 UTC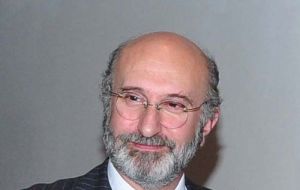 Once the EU and Mercosur exchange their proposals for a free trade agreement, negotiations will 'move fast' and the deal should be closed sometime in 2015, according to EU ambassador in Montevideo, Juan Fernandez Trigo. But he also pointed out that he expected Mercosur proposal to be in accordance with terms established in 2010.
"We're in the midst of that traffic, which is receiving each other's proposal and from that moment onwards I believe negotiations will move fast", said Fernandez Trigo, who added that "we expect that the Mercosur proposal on tariffs reduction will be on terms agreed back in 2010 and means that 90% of the universe of goods to the exchanged will be free of tariffs".
At the end of July four of Mercosur five full members, Argentina, Brazil, Paraguay and Uruguay, agreed on an only joint proposal to be presented to EU countries.
However the delay cannot be attribute entirely to Mercosur, since European Commission recently nominated authorities and they will be taking office next November and only then there will be a calendar of meetings for the exchange of proposals, to take place most probably during 2015.
Even when EU sources said that the change of authorities will not interfere with the negotiations, Mercosur sources believe that there will "naturally be a slowing down of the process".
Alvaro Ons head of the Mercosur office at the Uruguayan foreign affairs ministry was quoted saying that if there is not a clear commitment for the exchange of proposals, "it's hard to be optimistic" about an agreement between the two blocks in the short term.
Mercosur has already announced that it is ready to exchange proposals and is waiting for Europe. "EU must confirm it is ready for the exchange of proposals", but "we know that there is also resistance in the EU, among some of its members regarding agriculture", pointed out Uruguayan sources.
EU/Mercosur negotiations have been going on since 1999, with a six year interruption until 2010 when talks were resumed with the target of exchanging proposals by the end of 2013. Which obviously did not happen.
However Argentina's protectionist measures to defend its domestic industry and rein in imports, which were taken to the World Trade Organization by the US, EU, Japan and other leading trading countries, have become a great obstacle for the negotiations. Argentina fears losing the lucrative Brazilian market to cheaper more competitive products from Europe.
Last March the Europeans were disappointed with the Mercosur proposal which demanded a seven year grace period to begin the reduction of tariffs, initiative sponsored by Argentina and rejected point blank by the EU. In another incident the EU asked Mercosur to clarify which countries were effectively involved in the negotiations, and at some point even Brazil's patience run out.
In effect, President Dilma Rousseff was not only furious with Argentina's attitude but also with the EU for blaming Mercosur since it was known that France, Hungary and Ireland among others, had problems in supporting the EU proposal, plus the fact that the new European parliament is crowded with political organizations that blame free trade for the EU crisis.
Fernandez Trigo after recalling that EU/Mercosur trade is 125 billion dollars and EU investment in the area 280bn, admitted that countries need to reach "a balance that sometimes is hard to come about".
"We must remember that negotiations have been on for 15 years and when we started the EU had 15 member states and Mercosur four. The EU now has 28 members and this complicates negotiations", said the EU ambassador.
Likewise Fernandez Trigo discarded one-to-one free trade negotiations, as sometimes it was suggested in Mercosur given the reluctance of Argentina. "It will only further complicate the process. One must be realistic and concentrate in a two blocks negotiation. The other option is but speculation that only delays the whole process".