No end to fraud cases involving Cristina Fernandez vice-president Boudou
Saturday, September 20th 2014 - 07:02 UTC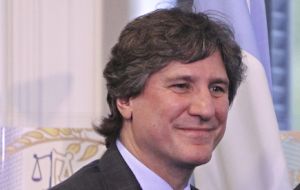 Argentina's controversial Vice-President Amado Boudou received yet another judicial headache on the same day as he took over the role of the country's interim head of the Executive as President Cristina Fernández travelled to the Vatican to meet with Pope Francis this Saturday.
Prosecutor Gerardo Pollicita charged Boudou for the falsification of his DNI identity card. Boudou was scheduled to attend a hearing at the Buenos Aires courthouse, where the Criminal Appeals Court was going to review his indictment, over fake car documents, issued by Federal Judge Claudio Bonadío last month.
Considering his lawyers, Jacobo Grossman and Martin Magram, had requested the tribunal postpone the vice-president's court appearance, Boudou likely thought it would be a calm day. But it was not to be.
Federal prosecutor Pollicita charged Boudou with falsification of public documents after it was revealed that his Audi A4 was registered at a house in the City's neighborhood of Villa Urquiza, which does not belong to Cristina Fernández number two. Another scandal emerged when it was revealed that Boudou had registered an address that was actually a spot on a beach in the city of San Bernardo.
The case will have to be analyzed by Federal Judge Ariel Lijo, who is Boudou's legal foe. Lijo indicted Boudou with bribery and negotiations incompatible with public office in the controversial Ciccone mint case. Lijo is also examining Boudou for alleged embezzlement and gave some hints in his June 27 ruling that he will probably indict the vice-president again, something that is also being analyzed by Federal Prosecutor Jorge Di Lello.
In June, Boudou accused Lijo of working hand-in-hand with opposition media and vowed to unmask the judge before the Criminal Appeals Court. But so far Boudou has chosen to postpone that hearing as well.
The complaint against the Argentine vice-president was filed by lawyer Santiago Nicolás Dupuy de Lome, who has links with Buenos Aires City Mayor Mauricio Macri's PRO and usually promotes these types of complaints.
Boudou was indicted by Bonadío in a similar case for falsifying public documents of a Honda car purchased in the city of Mar del Plata. In a writ handed to Bonadío, Boudou said that he had been the victim of network of consultants who were forgers and he also said that the car papers issue was left in hands of his former girlfriend Agustina Seguín.
However Seguín's lawyers visited the courthouse to appeal her indictment. Seguín was also involved in the Ciccone case as she works for the Swan tourist agency, which used to sell airline tickets to The Old Fund, the company that took over Ciccone mint in 2010 and was led by Alejandro Vandenbroele, who is considered by Judge Lijo as vice-president Boudou's front-man.
Boudou has other legal problems. Federal Judge Sebastián Casanello is investigating the role played by The Old Fund in the restructuring of Formosa province's debt in 2009 while Boudou was Cristina Fernández Economy minister. That was the first large invoice issued by the company led by Vandenbroele. The judge is trying to find out if Boudou was behind the guidance given to the province that had to refinance its debt with the national government.
For his part, Federal Judge Luis Rodríguez is investigating Boudou for using the helicopter of a government contractor to travel from Necochea airport to that city's casino. The vice-president is also under investigation for using a Border Guard helicopter to attend a campaign rally on 6 August 2011.
Last month, Boudou was charged by Pollicita for fraud in a housing plan in a low income district close to Mar del Plata, between 2003 and 2006 while the now vice-president was the district's Economy secretary. The case is also in the hands of Federal Judge Lijo.