Mujica brags on foreign policy; Latam ready to play a larger role in peace issues, Europe has lost clout
Monday, September 22nd 2014 - 04:16 UTC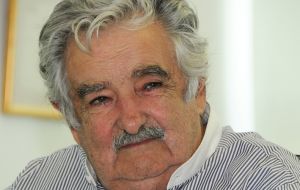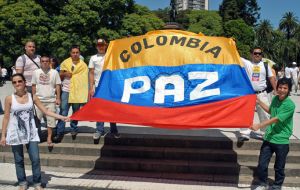 Uruguay's president Jose Mujica said the latest world events show that Europe 'has lost clout' in global affairs, and has lost strength as 'peace mediator', and this role could be "much better performed by Latin America".
"The old continent is suffering a stagnation process while Latin America is emerging with a clout and presence that we do not find in the developed world", said Mujica who at the same time strongly criticized what he described the 'military adventurism', including from some EU members.
Mujica also regretted sanctions imposed on Russia, which he said only are useful "to make things worse for the weaker members of the population".
"Europe does not have the stature or a political guidance which can make her operate as mediator and organizer of peace. Here and there is falls into bouts of 'military adventurism' as happened in Libya, Afghanistan, Iraq, where after a long period we're back with countries and their people far worse off than when it all started", continued Mujica in a report published in the Presidency's website.
The former guerrilla leader who spent years in jail, and is an exotic international figure for his austere way of life and philosophical remarks insisted that in Europe there "does not seem to be awareness of this and it is trapped in a vicious circle"
"Europe is in economic stagnation, and in my modest opinion she is not in line with what it represents in culture, history, accumulated experience and economic nucleus".
While this happens with Europe in Latin America, "with its efforts to achieve peace in conflicts such as that of Colombia, it is showing the world an entirely different picture: it's not an obstacle to address conflicts".
More specifically Mujica mentioned the case of Ukraine: "a constitutional government was brought down which triggered national conflicts, territory disputes and now the ghost of economic sanctions".
"If we look back into history there were sanctions against Franco, Mussolini, Stalin: they proved useless and only punished the weakest of those countries peoples. Even today we have the Cuban blockade and we must ask ourselves until when are we going to continue with this procedure in a world so rich in resources, but with the same myopia which only multiplies conflicts".
Mujica also took time to brag about the international presence Uruguay enjoys, "for which I will not receive any recognition, but yes maybe in the future".
"Obviously the country did not start with us, but Uruguay has never enjoyed the international acknowledgement which it has nowadays, and it is this president that opened the doors", he concluded.