Brazil calls for 'true reform' of Security Council and the 're-launching' of global economy
Thursday, September 25th 2014 - 06:44 UTC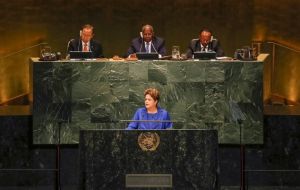 Following the opening remarks by UN Secretary General Ban Ki-moon, Brazil's president Dilma Rousseff was the first head of state to address the General Assembly on Wednesday. She called for a "re-launching of global economy" and a "true reform" of the UN Security Council.
Rousseff described the current composition of the Council as "inadmissible" and urged for a reform that would give more power to emerging countries. "The use of force cannot replace negotiation in conflict resolution," she said and criticized military interventions which she said have "aggravated conflicts with humanitarian consequences."
The head of state also called for a "re-launching of global economy" and said that developing countries should be better represented in international financial institutions that otherwise are in danger of losing legitimacy.
"The delay in the expansion of voting rights of developing countries in these institutions is unacceptable," Rousseff stated. She said it was imperative to eliminate what she called a disparity between the importance of emerging economies and their "insufficient" representation in such institutions as the International Monetary Fund and the World Bank.
The leaders of over 140 countries gathered at UN headquarters in New York for the 69th annual United Nations General Assembly, with an agenda focused on crisis including the rise of Islamic State in Syria and Iraq and the deadly Ebola outbreak, among other issues.
"It has been a terrible year for principles of the UN Charter, from barrel bombs, to beheadings (...) to attacks on UN schools," Ban Ki-moon said as he opened the debate.
He referred the ongoing civil war in Ukraine, the deadly Ebola outbreak, the nuclear talks with Iran and the faltering ceasefire in Gaza saying they illustrated the fragility of global states and institutions and warned against the "rise of divisive politics."
Rousseff's speech was followed by US Barack Obama's remarks, and the addresses of the leaders of Uganda, Chile, France, Mexico, Turkey, Bolivia, Dominican Republic, Costa Rica, Honduras, Venezuela and the United Kingdom.