Blatter assures Asia (and Africa) votes for his fifth bid as FIFA president
Tuesday, September 30th 2014 - 22:47 UTC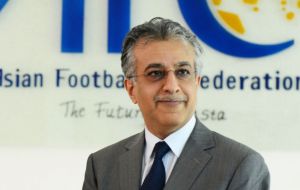 Asian Football Confederation chief Shaikh Salman bin Ebrahim Al Khalifa has joined his African counterpart in officially backing Sepp Blatter's bid for re-election. Last week Issa Hayatou and the Confederation of African Football executive committee "unanimously resolved" to support Blatter for a fifth term as FIFA president.
After FIFA's Exco meeting in Zurich on Friday, the AFC confirmed Shaikh Salman's backing for the 78-year-old's re-election bid. Blatter officially informed the 27 members of FIFA's ruling body that he would stand for the presidency again.
"Joseph S. Blatter has always been supportive of Asia and has placed great importance in the development of Asian football through various FIFA programs," said Salman in the AFC statement. "Our growth in world football can also be credited to the dynamic relationship that the AFC has with FIFA under the guidance of Mr. Blatter."
"Mr. Blatter has decades' worth of experience in governing world football, therefore I have every confidence that he will continue to play an important role in its development," he added.
The Bahraini, a Blatter ally, can depend on the Swiss to help get him re-elected as AFC president in a few months' time.
FIFA ExCo member Prince Ali has said he will not run against Sheikh Salman for Asian football's top job. But after losing his FIFA vice-presidency, the Jordanian does plan to run for another Asian seat on FIFA's ruling body.
Blatter can seemingly bank on the support of virtually all African's 56 federations and Asia's 47 football associations in his campaign for re-election.
Their support was made plain at the AFC and CAF congresses held in Sao Paulo in June, where Blatter launched a charm offensive and talked up the World Cup bonuses each federation would receive following the success of the Brazil World Cup. He received several standing ovations.
Three other confederations - CONCACAF, CONMEBOL and Oceania - are expected to reiterate their support for Blatter in the coming months.
UEFA was the only continental football body to register its opposition at the regional congresses held in the week leading up to the World Cup. On the eve of the World Cup, UEFA president Michel Platini said he would no longer support Blatter, but decided in August not to challenge him for the FIFA presidency. It remains to be seen if UEFA will provide a protest candidate to take on Blatter, though it seems increasingly unlikely.
The deadline for candidatures is Jan. 29.
Only Jerome Champagne, a former FIFA deputy general secretary, has so far declared his intention to challenge Blatter.