Dilma and Marina fighting for the religious vote, one fifth of the Brazilian electorate
Thursday, October 2nd 2014 - 07:39 UTC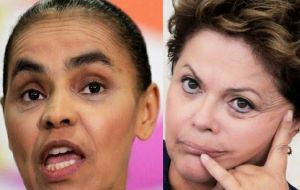 Brazil's rapid religious transformation is having an impact on the country's tight presidential race, where abortion and gay marriage have emerged as hot issues and Pentecostal televangelists are political power brokers.
The socially conservative Pentecostal population now includes more than one-fifth of the Brazilian electorate, just three decades after barely registering any presence at all. That change has the incumbent Dilma Rousseff quoting Psalms while her Bible-reading rival Marina Silva has repeatedly stressed her belief in a secular state to avoid alienating liberal voters ahead of Sunday's first-round vote.
During a recent service at his 6,000-seat Assemblies of God church in a gritty Rio de Janeiro neighborhood, Brazil's most influential Pentecostal pastor spent half of the service talking about the election, nudging voters to support top opposition candidate Marina Silva, who is also a member of the Assemblies of God, by far Brazil's largest Pentecostal denomination.
If Silva makes it to the second round and defeats incumbent Dilma Rousseff in an expected Oct. 26 runoff, she would become the first Pentecostal leader of a country with more Catholics than any other.
"A pastor isn't the owner of anybody's ballot. I don't have a band of angels who can peek over your shoulder in the voting booth," said Silas Malafaia, his face looming on two jumbo TV screens bookending the enormous stage where he paced. "But you've got to vote your conscience. Don't just give your vote away. Vote against the corrupt and those who want to destroy the family!"
Malafaia alone has 800,000 followers on Twitter, books that have sold in the millions and sermons beamed around the globe. He is part of a rapidly swelling movement that is strongly rooted among poorer Brazilians, a group that otherwise heavily favors Rousseff's Workers Party, which has lifted millions from poverty with expansive social welfare programs and the creation of millions of new jobs.
In a survey released Friday, the Datafolha polling group found that 54% of Pentecostal voters would support Silva in an expected second-round vote, while Rousseff was favored by 38%. Among the population as a whole, the two were in a statistical tie. Datafolha polled 11,474 people across Brazil on Sept. 25-26 and the margin of error was 2 percentage points.
But in a Datafolha poll released Tuesday night, Rousseff had pulled ahead of Silva in a second-round vote, leading 49-to-41. A breakdown of a second-round vote by religion was not available.
Rousseff, a former Marxist guerrilla who was imprisoned and tortured during Brazil's military dictatorship, rarely spoke of religion before this campaign, but she has been making the rounds of Pentecostal churches and invoking God's name of late.