Squid, hake and shrimp make up most of Argentine fisheries exports
Friday, October 3rd 2014 - 23:34 UTC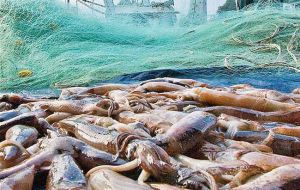 Argentina exported 277.348 tons of seafood between January and August 2014, which represents a minimum rise of 0.01% compared to the 277.314 tons of the same period in 2013.
According to statistics from the Argentine National Health and Food Quality Service (SENASA) in the first eight months of this year 144,695 tons of fish were exported, 8.5% less than in the same period in 2013 (158,029 tons).
However 132,653 tons of seafood were sold overseas which is 11.2% more than on the same period last year, when 119,285 tons were exported.
The highest export records were squid (Illex argentinus), with 80,671 tons, 5.5% more than the 76,403 tons in Jan/August 2013. This was followed by hake (Merluiccius hubbs) with 70,108 tons, 6.1% less than a year before (74,643 tons), and shrimp (Pleoticus muelleri), with 45,306 tons, 26.3% higher than last year's 35,864 tons.
Another resource that increased shipments abroad was stingray (Potamotrygon brachyura), with sales rising 25.5% from 3,822 tons in Jan/August 2013 to 4,797 tons in the same period of this year.
The species that recorded declines when comparing the two periods are: Patagonian anchovy (Engraulis anchovy): from 5,358 to 5,273 tons (1.6%); Patagonian scallop (Zygochlamys patagonica): from 4,402 to 3,872 tons (12.1%); Trout (Cynoscion striatus): from 10,559 to 7,529 tons (28.7%); Hoki (Macruronus magellanicus): from 9,738 to 8,537 tons (12.4%); Whitemouth croaker (Micropogonias furnieri): from 23,497 to 19,343 tons (17.7%); and Kingclip (Genypterus blacodes): from 1,595 to 1,200 tons (24.8%). (FIS)