Despite record shrimp season, Argentine seafood landings drop 7.3%
Tuesday, October 7th 2014 - 22:19 UTC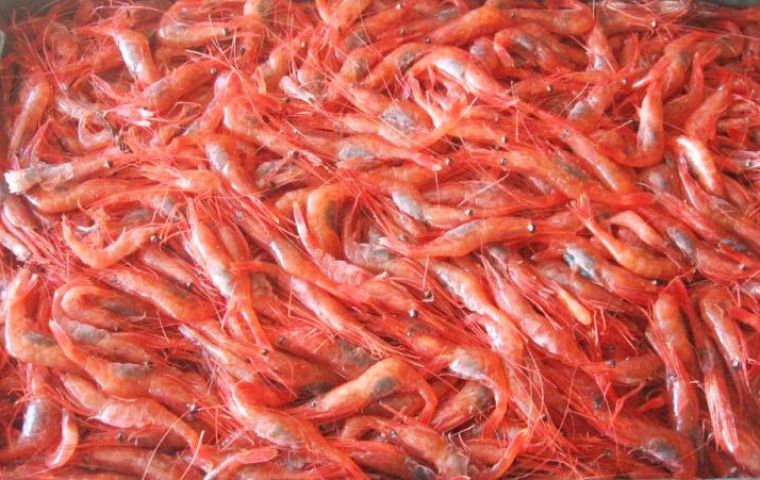 Seafood landings in Argentine sea ports between January first and 30 September totaled 584,835.1 tons of seafood resources, 7.3% less that the same period a year ago, 630,393 tons.
Out of that total this year, 333,366.5 tons were fish; 168,659.5 tons were moluscs; and 82,809.1 tons crustaceans, according to statistics from the Under Secretariat of Fisheries and Aquaculture, which depends from the Argentine Ministry of Agriculture, Livestock and Fisheries (MINAGRI).
The largest landing was hake (Merluccius hubbsi) with 178,905.8 tons, representing a decrease of 10.2% compared to the 199,108.8 tons for the same period in 2013.
Hake was followed by squid (Illex argentinus), with 165,063.3 tons, 11.2% less than last year (185,745.6 tons).
Other landings, 11,790.3 tons of trout (Cynoscion striatus); 3,979.9 tons of flounder (Paralichthys patagonicus); 2,402.9 tons of red porgy (Pagrus pagrus); 2,897.8 tons of Patagonian smoothhound (Mustelus schmitti) and 1,688.5 tons of Patagonian toothfish (Salilota australis).
As to mollusks, landings reached 3,483.3 tons of scallops (Zygochlamys patagonica) and shellfish, 80,362.9 tons of shrimp (Pleoticus muelleri), which is 27.6% higher compared to the same 2013 period: 62,937.2 tons.
Mar del Plata (Buenos Aires) continued to be the main landing port with 308,732.4 tons of seafood, followed by Puerto Madryn (Chubut) with 92,179 tons; Puerto Deseado (Santa Cruz), 68,762.5 tons; Ushuaia (Tierra del Fuego), 32,128.7 tons; and Caleta Olivia/Paula (Santa Cruz), 23,508.6 tons, among other terminals.
According to official fisheries stats, from January first to 30 September 2014 the fleet with the highest level of catches was jiggers with 148,969.3 tons. Fresh fish vessels landed 141,553.7 tons; trawlers, 110,298.1 tons; and coastal vessels, 74,284.6 tons, among others. (FIS)