YPF admits contacts with Russia's Gazprom but no accord or MOU has been reached
Thursday, October 9th 2014 - 06:38 UTC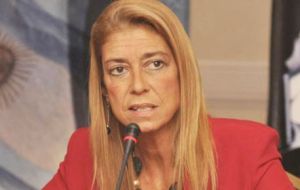 Argentina's state-run energy company YPF admitted on Wednesday having held promising meetings with Russia's Gazpron to consider different collaboration and business opportunities, "but so far has not signed any Memorandum of Understanding, MOU or agreement".
The 'clarification' release published in the Argentine media but not in the official YPF site, and with no time indication of such meetings, follows on an earlier announcement from the Ministry of Industry indicating that Gazpron, Russia's government energy company has plans to invest in Argentina's natural gas sector, and the sum involved could be in 'the range of a billion dollars'.
The YPF release adds that since the company is public and operates in New York and Buenos Aires stock markets, "any relevant fact" will be reported to its shareholders.
According to the Argentine Industry ministry announcement, Ms Giorgi said she met in Russia with Gazprom head Alexey Miller, who told her a "confidential" deal had been reached with YPF to explore for and produce gas in Argentina.
"It is estimated the investment will be of one billion dollars, to start with," the statement added, without any further clarification.
On Tuesday, Gazprom put a statement on its website saying that Miller met Giorgi in St. Petersburg in the framework of the International Gas forum taking place at the Russian city.
"The meeting participants looked at the development prospects for the bilateral cooperation in the gas sector, with an emphasis on exploration and production of gas from Argentine gas fields," Gazprom said in the statement. "Consideration was also given to supplies of liquefied natural gas from Gazprom group's portfolio to the country."
According to Argentina's government official news agency Telam, Ms Giorgi underlined the significance of Russian technology and heavy equipment transfer for the country since "Argentina has an annual 10bn dollars energy deficit and it's precisely there where the opportunities are".
"We want partners to finance projects not only in (the vast shale deposits of) Vaca Muerta, but also in other non conventional resources", said Ms Giorgi.
Telam speculates that Germany's Wintershall (which belongs to BASF) will probably join Gazprom in the undertaking since the two companies are close partners and Wintershall already is responsible for 9% of Argentina's gas output.
Oil companies drilling in Vaca Muerta shale deposits include the Chevron group (which committed 1.2bn dollars), Royal Dutch Shell Plc and Exxon Mobil Corp.