Falklands at the Bird Fair with record attendance and "flawless performance"
Tuesday, October 14th 2014 - 19:27 UTC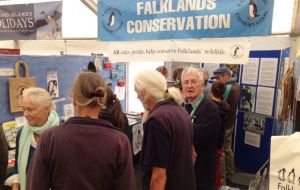 The Falkland Islands were one of the main sponsors for the second year in a row of the recently completed annual Bird Fair event at the Rutland Wildlife Reserve, which had a better than expected attendance, and according to the Falkland Islands Tourist Board "went off flawlessly".
The Tourist Board is the main sponsor of the Events Marquee, where all of the major speaking engagements and presentations are given.
"We were exceptionally pleased with the way the Islands were promoted this year at the event. The team at Rutland Wildlife Reserve really looked after us and ensured our promotions were a huge success. The Events Marquee was set up in the centre of the event, and was basically the centre stage", said FITB Managing Director Tony Mason.
The marquee included five large plasma screens with FITB's logo on at all times while the speakers and events were taking place. While there were breaks in the schedule between each speaker, the Tourist Board's newest promotional DVD played on the screens.
The Falkland Islands was announced as sponsor over the audio systems during the three days, before each event took place keeping the Islands' on everyone's mind.
Martin and Jane Beaton from Weddell Island joined Mr. Mason and assisted with FITB's promotions. Falkland Island Holidays under the direction of Jenny Luxton and Falkland Islands Conservation were also present which gave the Islands an impressive attendance of Islanders.
A proper Falkland Islands smoko was held during the event as well.
Around 20,000 birders and wildlife enthusiasts attended Bird-Fair.