Chile convinced of the Mercosur/Pacific Alliance 'convergence' led by Brazil
Wednesday, October 15th 2014 - 08:53 UTC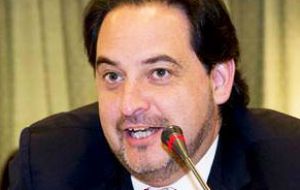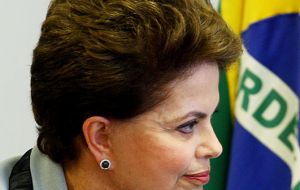 Chile is confident that in coming months there will be 'significant' advances in a convergence of the Pacific Alliance and Mercosur, said Andres Rebolledo, Chile's Deputy Trade minister during a visit to Brazil.
"Convergence in diversity", argued Rebolledo who is participating in bilateral trade and economic affairs meeting between Chile and Brazil, the first such meeting since 2011.
The Chilean official said that whatever the result of Brazil's presidential runoff on 26 October, "there will be no turning back on Brazil's interest of the Pacific Alliance and Mercosur having closer links".
He added that no matter the current political situation, Brazil has a leading role in Latin American integration and is a global player in a new multi-polar world which is being constructed. "There's no doubt that Brazil has a more than proven commitment to Latin America's integration".
President Dilma Rousseff who is running for re-election has publicly expressed that Brazil, which together with Argentina, Paraguay, Uruguay and Venezuela make up Mercosur want closer links and even a 'possible convergence' with the Alliance, and its full members, Chile, Peru, Colombia and Mexico.
Her contender in the runoff, Aecio Neves is even more affirmative on the issue: in the event he becomes Brazil's next president a top priority of his foreign and trade policy will be to promote a greater opening of markets with more emphasis in economic than political issues, one of the main criticisms of the current focus of Mercosur.
"No matter who wins, the convergence between Mercosur and the Alliance is a fact, and Brazil given the size of its economy will be one of the pillars of that future association" insisted Rebolledo.
The Chilean official also recalled that next 24 November Santiago will be hosting a seminar with the foreign ministers from Mercosur and the Pacific Alliance, together with business representatives and multilateral organizations (such as Eclac and Unasur) to address precisely such a convergence, benefits and drawbacks.
Rebolledo also revealed that to make the meeting even 'more Latin American', a delegation from Central America's Guatemala has been invited to the event, so that "this convergence transcends the two regional blocks".
Finally regarding Chile/Brazil bilateral relations, Rebolledo recalled that Brazil is his country's main trade partner in Latin America and fifth in the overall list, and has become "the main market for Chilean investments, which already total over 25 billion dollars; Brazil is essential for any serious integration project".